Protein rich, low fat, soft and silky paneer cubes cooked in a spicy tomato and fresh cream gravy makes a delicious paneer lababdar. The butter sautéed onion and various other spices cooked in tangy tomato gravy compliments the taste of paneer and makes it one of the best curry recipes ever. Serve it with onion paratha or aloo paratha and glass of sweet lassi for complete Punjabi food experience.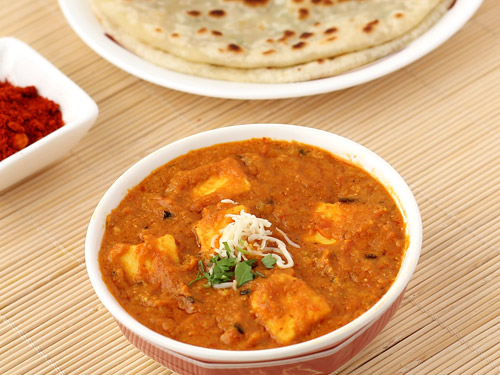 More Curry Recipes
Preparation Time:
15 minutes
Ingredients:
250 gms Paneer (cottage cheese)
3 medium Tomatoes, finely chopped
10 Cashew Nuts, soaked in water for 15-20 minutes
1 Green Cardamom (elaichi)
1 small piece of Cinnamon Stick
2-3 Green Chilies, seeded and chopped
1 medium Onion, finely chopped
1 teaspoon finely chopped Ginger
5 Garlic Cloves, finely chopped
1/2 piece of Bay Leaf
1/4 teaspoon Turmeric Powder
1/2 teaspoon Red Chili Powder
1/4 teaspoon Garam Masala Powder
2 teaspoons Coriander Powder
1-2 teaspoons Kasuri Methi
3 tablespoons Cooking Oil or Butter
2 tablespoons + 3/4 cup Water
Salt to taste
2 tablespoon finely chopped Coriander Leaves, for garnishing
Directions:
Cut paneer into 1-inch cubes. Grind soaked cashew nuts, small piece of cinnamon and green cardamom with 2-tablespoons water into smooth paste.

Heat butter or oil in a kadai (or pan) over medium flame. Add chopped onion and bay leaf and sauté until onion becomes light brown. Add ginger, garlic and green chilies and sauté for approx. 1-minute.

Add chopped tomatoes and cook over medium flame until oil starts to separate and tomatoes turn tender or for around 3-4 minutes.

Takeaway kadai from the stove. Takeout and discard bay leaf from kadai. Let mixture cool for 5-minutes at room temperature. Transfer all contents to mixer-grinder jar, grind or blend into a smooth puree and transfer to a same kadai.

Add cashew nuts paste, red chili powder, garam masala, coriander powder, turmeric powder and salt.

Stir and cook for 3-minutes.

Add 3/4 cup water and bring it to boil. Reduce flame to low and cook for 3-minutes.

Add paneer cubes and kasuri methi.

Cook for 3-minutes or until curry starts to thicken. Stir in between occasionally to prevent sticking.

Turn off flame and transfer prepared curry to a serving bowl. Garnish it with coriander leaves and serve.
Tips and Variations:
To give an extra creamy texture and taste to the paneer gravy, add 1/4-cup fresh cream in step-8.
Serving Ideas:
Serve it as a main curry dish in lunch or dinner with chapati or butter naan. It also tastes well with steamed rice and papad.