Palak Soup Recipe (Spinach Soup) – is a healthy and delicious way of savoring the goodness of green spinach leaves. Making Palak Soup at home is very easy as it requires only few ingredients, requires very little process and takes only 25 minutes to cook. Generally spinach soup recipes require adding fresh cream to give it a rich and creamy taste and texture. However, fresh cream may not be available at all times and hence this Spinach Soup Recipe uses milk as it is always available in the kitchen and still gets the same taste. To prepare this hearty soup, Spinach is first cooked with onion, ginger and garlic, cooked mixture is then pureed, spinach puree mixture is then cooked with milk and lastly it is seasoned with black pepper powder. This Palak Soup Recipe explains this entire process in detail with accompanying step by step photos and also provides tips for how to keep soup green and thicken it to your preference.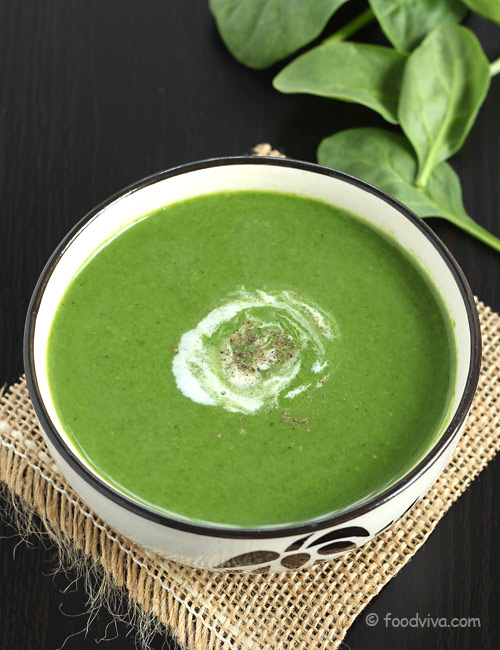 More Soup Recipes
Preparation Time:
 5 minutes
Ingredients:
2 cups tightly packed Spinach (Palak) (approx. 125 gms)
1/2 cup Milk
1/2 tablespoon Corn Starch (corn flour)
1/2 teaspoon Oil
1/2 teaspoon Butter
1/3 cup chopped Onion (1 medium)
1/4 inch piece of Ginger, finely chopped
1-2 small cloves of Garlic, finely chopped
1 cup Water
1/4 teaspoon Sugar, optional
Salt to taste
1/4 teaspoon Black Pepper Powder
Directions:
Clean the spinach leaves and wash them to remove any dirt or debris. If spinach leaves are big, chop them roughly.

Dissolve 1/2 tablespoon corn starch in 1/2 cup milk. Make sure that there are no lumps of flour.

Heat 1/2 teaspoon oil and 1/2 teaspoon butter together in a deep saucepan or a kadai over medium flame. Add chopped ginger and garlic; sauté for few seconds. Add chopped onion.

Sauté until onion turns light pink.

Add spinach.

Cook until spinach wilts.

Add a cup of water, sugar and salt. Stir well and bring the mixture to boil. Let it boil for 3 minutes. Sugar is an optional ingredient in this recipe. It is added to retain rich green color of spinach and prevent it from turning dark.

Turn off the flame and let the mixture cool for 5-10 minutes. Make smooth puree of the cooked mixture by either using a stick blender (hand blender) or a mixer grinder (or blender). Transfer the mixture to the same pan after making the puree.

Add dissolved cornstarch and stir continuously for 1 to 2 minutes over medium flame.

Add black pepper powder.

Let the mixture cook for 4-5 minutes. Taste for the seasonings and adjust it per your taste.

Turn off the flame and transfer spinach soup to serving bowls. Serve it hot with bread croutons or garlic bread sticks.
Tips and Variations:
Garnish spinach soup with fresh cream to give it a tempting look.
Add 1/2 cup chopped tomato while cooking onion for variation.
This soup has a medium thick texture. You can make it extra thick by increasing the quantity of corn starch (corn flour).
Sugar is an optional ingredient in this recipe. It's added to retain the dark green color of spinach.
Taste:
 Mild taste of spinach with a touch of garlic and butter.
Serving Ideas:
 Serve it hot with garlic bread as an appetizer or as a light evening food.