Hot and Sour Soup is a popular restaurant style soup from the indo chinese cuisine. As the name suggests, this soup with vegetables gets spicy(hot) taste from the chili sauce and black pepper powder while sour taste from the vinegar.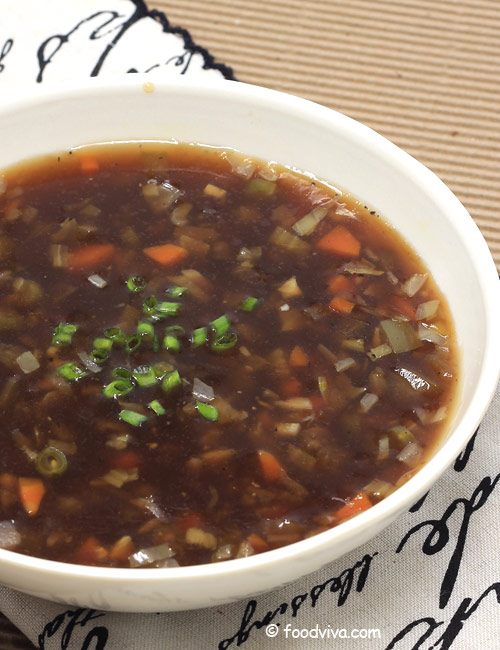 It is usually served as an appetizer or starter before the main course meal. This soup recipe is very easy and you can make it in less than 15-20 minutes once the vegetables are chopped. Learn how to make hot and sour soup by following the below given recipe with step by step photos.
More Soup Recipes
Preparation Time:
10 minutes
Ingredients:
2 teaspoons Oil
1/4 cup finely chopped Onion
1 teaspoon finely chopped Ginger
1 teaspoon finely chopped Garlic
1 tablespoon finely chopped Celery, optional
1/4 cup finely chopped Cabbage
2-3 tablespoons finely chopped Green French Beans
2-3 tablespoons finely chopped Carrot
2-3 tablespoons finely chopped Capsicum (Green Pepper)
2 cups + 1/4 cup Vegetable Stock or Water
5 teaspoons Cornflour (corn starch)
1 tablespoon Soy Sauce
1/2 tablespoon Chilli Sauce
1/4 teaspoon Black Pepper Powder
1/2 teaspoon Vinegar, optional
Salt to taste
Directions:
Finely chop all the vegetables(cabbage, green beans, carrot, capsicum) listed in the ingredients table. Dissolve 5 teaspoons cornflour(corn starch) in 1/4 cup water.

Heat 2 teaspoons oil in a deep pot or a kadai over medium flame. Add 1/4 cup finely chopped onion and sauté for 2-3 minutes or until it turns translucent.

Add 1 teaspoon finely chopped ginger, 1 teaspoon finely chopped garlic and 1 tablespoon finely chopped celery.

Sauté for 30 seconds.

Add finely chopped vegetables(1/4 cup cabbage, 2-3 tablespoons green beans, 2-3 tablespoons carrot, 2-3 tablespoons capsicum).

Sauté for 2-minutes.

Add 2 cups water or vegetable stock.

Add salt to taste (if you are using the vegetable stock then be careful while adding the salt).

Add 1 tablespoon soy sauce.

Add 1/2 tablespoon chilli sauce.

Mix well.

Add dissolved cornflour-water mixture.

Mix well. Add 1/4 teaspoon black pepper powder. Let the soup simmer for 5-6 minutes or until it thickens slightly.

Add 1/2 teaspoon vinegar and mix well.

Turn off the flame. Hot and Sour Soup is ready for serving. Garnish it with green onions and serve.
Tips and Variations:
Add the vegetables as per the availability and your choice. You can also add mushrooms, bean sprouts and tofu.
Cornflour (cornstarch) is added to thicken the soup. This soup has a medium thick consistency. If you like very thick soup, add 6 teaspoons cornflour and if you like very thin soup, add 4 teaspoons cornflour.
To make this soup less spicy, reduce the amount of chilli sauce and black pepper powder.
Taste:
 Spicy and Mild Sour
Serving Ideas:
  Serve hot and sour soup as a starter or appetizer with indo chinese food like vegetable hakka noodles and gobi manchurian.