Once you learn how to make a sauce and/or gravy for manchurian, you can make manchurian of almost any of your favorite vegetable. In this step by step photo recipe of baby corn manchurian, baby corns are first dipped in a batter of cornflour and maida and then deep-fried until crispy. After that, they are mixed with ginger, garlic, onions, green chillies, capsicum and various types of sauces that make it an ultimate spicy and crunchy starter.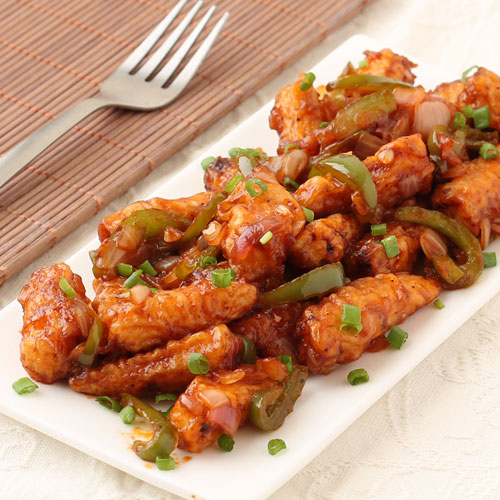 More Chinese Recipes
Preparation Time:
10 minutes
Ingredients:
10-12 Baby Corns
1/4 cup Cornflour (corn starch)
2½ tablespoons Maida
1 teaspoon Ginger-Garlic Paste (or crushed)
1/2 teaspoon Soy Sauce
Salt to taste
1/4 cup Water
Oil, for deep frying
For Sticky Sauce:
1 teaspoon minced or crushed Ginger
1 teaspoon minced or crushed Garlic
1-2 Green Chillies, slit vertically and halved
1 medium Onion, finely chopped
1/2 Capsicum, thinly sliced
1/4 cup finely chopped Spring Onion
1½ tablespoons Soy Sauce
1½ teaspoons Red Chilli Sauce or Green Chilli Sauce
2 tablespoons Tomato ketchup
1/4 teaspoon Black Pepper Powder
1 teaspoon Cornflour (corn starch) dissolved in 2 tablespoons Water
1 tablespoon Oil
Salt to taste
Directions for Making Fried Baby Corn:
Cut baby corns into half and chop other vegetables.

Mix cornflour, maida, ginger-garlic paste, soy sauce and salt with 1/4 cup water in a medium size bowl and prepare a batter. Make sure, that there are no lumps in the prepared batter. Add halved baby corn pieces in it and coat them evenly with batter.

Heat oil in a frying pan over medium flame. When it is medium hot, take one piece of batter coated baby corn and gently drop into the oil. Make a batch of 4-5 pieces at a time and deep-fry them until light golden brown and crispy. Transfer them using slotted spoon over oil absorbent paper in a plate. Deep-fry remaining pieces.
Directions for Sticky Sauce
Heat 1-tablespoon oil in a wok or wide mouthed pan over high flame. Add minced ginger, minced garlic, slit green chilli and chopped onion and sauté them for a minute.

Add sliced capsicum and sauté for a couple of minutes.

Add spring onion, red chilli sauce, soy sauce, tomato ketchup and black pepper powder. Mix well and cook for 30-40 seconds.

Add dissolved cornflour, mix well and cook for a minute.

Add fried baby corn pieces.

Toss until all ingredients are mixed well and corns are coated well with sauce and cook for approx 2-minutes.

Baby Corn Manchurian is ready for serving. Serve it hot.
Tips and Variations:
Do not keep fried baby corns idle for long time otherwise, they will turn little bit soft and you will not get the crunchy taste.
If you are preparing this Chinese dish for kids party or snack then reduce the quantity of ginger and garlic and do not add green chilli and red chilli sauce.
You can add ginger and garlic in any one of the form – crushed, minced or paste as per your convenience.
Taste:
Spicy, crispy and crunchy
Serving Ideas:
You can serve it by itself or with tomato ketch-up as appetizer or starter. It can also be served as a side dish with fried rice and Chinese soup.