Generally served with deep fried green chilli, tomato ketch up and dry garlic chutney, Vada Pav, which is popularly known as Indian burger among youngsters, is a hard to miss street food cum fast food of Mumbai and often a quickest way to satisfy your hunger on the go is equally popular among all ages of people. In its simplest preparation, bread pav or bun is horizontally cut from center, given a generous touch of green and dry garlic chutney and then stuffed with deep fried crispy and spicy potato fritter (
batata vada
) – Pav Vada prepared with this style is more popular in Maharashtra. However, in Gujarat and typically in Ahmedabad, bread pav or bun is roasted or shallow fried in dry garlic chutney laced butter to give it a richer spicier flavor. This step by step photo recipe of vada pav explains both the variations in detail.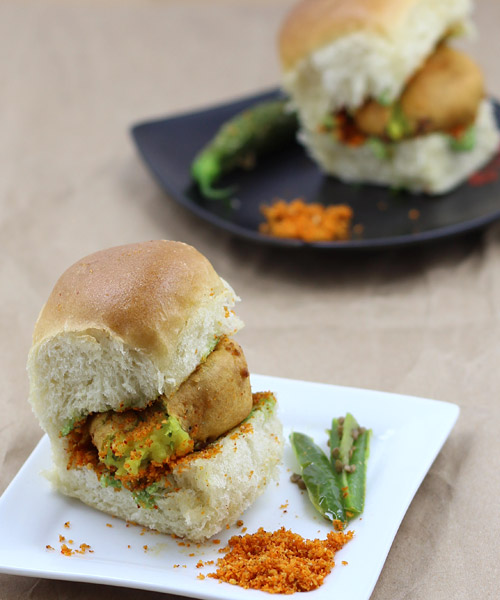 More Snacks Recipes
Preparation Time:
 20 minutes
Ingredients:
4 Batata Vada
4 Pav Bun
1/4 cup Green Chutney
1/4 cup Dry Garlic Chutney
2 tablespoons Butter, optional
Green Chutney and Tomato Ketchup, for serving
Directions:
Take pav and slit it horizontally into two equal halves and keep one-side connected. Spread 1-tablespoon green chutney on both inner sides of pav bun.

Spread 1/2 tablespoon dry garlic chutney over it.

Place one fried batata vada between them. Vada Pav is ready. Serve it with fried green chilli, green chutney and tomato ketch up.
For Ahmedabad Style Vada Pav (roasted pav):
In Ahmedabad style, pav is roasted with butter and garlic chutney before putting the vada inside it. This is an optional process but highly recommended.
Heat 1/2 tablespoon butter on a tawa over medium flame. Add 1/2 tablespoon dry garlic chutney over it.

Roast pav's inner side by placing it on tawa. Press it a little and shallow fry until light brown – approx 20-30 second on medium flame.

Flip the pav and shallow fry outer sides as well until light brown.

Spread green chutney on inner side and place the vada inside pav. Serve hot with tomato ketch up and green chutney.
Tips and Variations:
Prepare both chutneys in advance and store them in airtight container for 2-3 days in refrigerator.
Adjust the amount of dry garlic chutney according to your spiciness preference.
Serving Ideas:
 Serve vada pav as an afternoon snack or as an evening snack. It can also be served as a party snack in kid's birthday party or any other functions.