This is a dry textured chutney prepared from garlic, ground nuts and spices and must have condiment for making delicious vada pav. This chutney is so widely used in Maharashtra for making
vada pavs
that it's commonly referred as vada pav chutney. The uniqueness of this dry garlic chutney recipe is that roasted groundnuts and sesame seeds are crushed with oil sautéed garlic, tamarind paste, red chilli powder and coriander powder that gives it a deliciously hot and spicy character.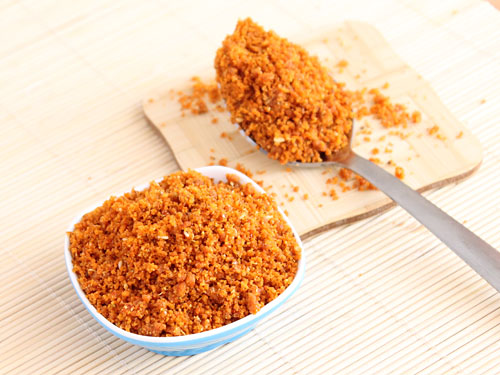 More Chutney Raita Recipes
Preparation Time:
10 minutes
Serves:
8 servings (1/2 cup)
Ingredients:
8 Garlic Cloves
1/2 cup grated Dry Coconut
1 tablespoon Sesame Seeds
1 tablespoon Roasted Peanuts (groundnuts)
2 teaspoons Red Chilli Powder
1 teaspoon Coriander Powder
1/2 teaspoon Tamarind Paste
1 teaspoon Oil
Salt
Directions:
Heat 1 teaspoon oil in skillet or pan and roast garlic cloves over low flame for 1 minute. Turn off flame and transfer it to a plate

Dry roast grated coconut in same skillet over low flame until light brown. Turn off flame and transfer it to a plate.

Dry roast sesame seeds over low flame until seeds start to pop (approx. 30 seconds) and transfer to plate.

Let roasted garlic, roasted coconut and sesame seeds cool for 5 minutes. Add roasted peanuts, tamarind paste, red chilli powder, coriander powder and salt in grinder jar or food processor jar.

Grind them until medium coarse powder. Taste for salt and add more if required.

Chutney is ready. Transfer in an airtight container. You can store it for up to 15 days in refrigerator. Use it as a spread for preparing vada pav or

dosa

.
Tips and Variations:
Use 4 dry red chillies instead of red chilli powder for better taste and texture.
While roasting coconut make sure that it doesn't burn and turn dark brown.
Taste:
Hot and spicy taste with dry texture
Serving Ideas:
Use dry garlic chutney for
vada pav
preparation or as a spread for making delicious vegetable burger, sandwich, rolls, etc. Make nice aromatic garlic chutney paste by adding ghee in it and enjoy it with a south Indian meal.