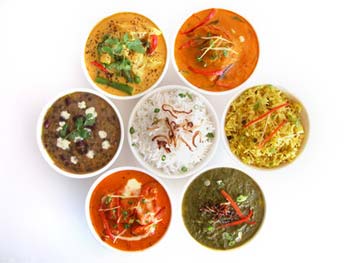 You don't need to be an expert cook to make spicy yet yummy apple chutney at home. It is as simple as mixing and simmering apple pieces, chopped onion, crushed garlic, grated ginger, couple of colves, cinnamon and sugar in a cider vinegar until thick as desired. However, the secret of making best chutney lies in using appropriate amount of each ingredients. With this carefully crafted and tested recipe, you just need to worry about how would you enjoy it.
More Chutney Raita Recipes
Preparation Time:
10 minutes
Ingredients:
2 large tart cooking Apples
2 tablespoons chopped Yellow Onion
1/2 tablespoon grated Fresh Ginger
1 teaspoon finely chopped Garlic
1/8 teaspoon Ground Cinnamon
1/8 teaspoon Ground Clove
2 tablespoons Raisins
1/2 cup Brown Sugar
1/2 cup Apple Cider Vinegar
Directions:
Peel, core and finely chop apples into small pieces.
Take all ingredients in a medium saucepan, mix well and bring them to boil over medium heat.
when mixture starts to boil, reduce heat to low and simmer until mixture thickens or for approx. 25-30 minutes. Stir occasionally in between to prevent sticking or burning.
Transfer prepared apple onion chutney to a serving bowl and let it cool at room temperature.
Consume it fresh or store it in refrigerator and use anytime you like it for up to 12-15 days.
Tips and Variations:
Use crushed apple to get a smooth texture.
Cooking time may vary depending on the type of apples you are using. Use granny smith apples or mixed apples for variation.
Taste:
Sweet, sour and spicy
Serving Ideas:
Spiced apple chutney can be served as relish for roasted meat and chicken. It is a fresh and yummy alternative of jam as bread spread.