Summer is the best time to enjoy many fresh fruit recipes. Spicy pear chutney is one such recipe that is religiously followed by many families during summer when ripe and juicy pears available in abundance. Apart from pear, sugar and vinegar, this recipe also uses apple, ginger, cinnamon and clove for complex sweet, sour and spicier flavor.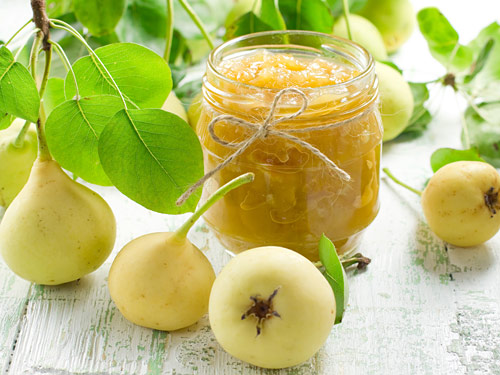 More Chutney Raita Recipes
Preparation Time:
15 minutes
Ingredients:
1 lb (450 gms) Pear
1 Apple
1/3 cup finely chopped Onion
1/2 cup Seedless Raisins
1/2 teaspoon grated Ginger
3/4 cup Sugar
1/2 teaspoon Ground Cinnamon
1/4 teaspoon Ground Cloves
1/2 teaspoon Cayenne Pepper
1 cup Cider Vinegar
1 teaspoon Oil
Salt to taste (optional)
Directions:
Peel, core and chop pear into small 1/2-inch pieces. Peel apple, remove stems and cores and finely chop into small pieces. (You can use red delicious apple or granny smith apple according to your choice.)
Heat 1 teaspoon oil in a pan. Sauté onion until it turns light brown.
Add chopped apple, chopped pear, raisins, ginger, sugar, ground cinnamon, ground cloves, cayenne pepper, cider vinegar and salt and cook over medium heat. Stir to combine all ingredients. When mixture starts to boil, reduce to simmer.
Simmer until mixture thickens or for around 40 minutes. Stir in between occasionally. If mixture is still runny after 40 minutes, then simmer it for 10-15 minutes more.
Turn off heat and let it cool at room temperature. Store prepared pear apple chutney in refrigerator and consume within 2 weeks.
Tips and Variations:
If you do not like strong and hot taste of cayenne pepper, then use pepper of your choice.
Store apple and pear chutney in refrigerator for long preservation and any time use.
Taste:
Spicy, mild sour and mild sweet with aromatic flavor spices.
Serving Ideas:
Fresh apple pear chutney is a good option to be served as a dipping sauce for homemade egg rolls or as an accompaniment to roasted pork, chicken or beef. This fresh fruit chutney makes best sandwiches too.