Sweet, juicy and flavorful ripe pears are more enjoyable in smoothie prepared with this recipe than by it-self. The orange compliments the taste of pear and makes it one of the most desirable pear concoctions while spinach makes it nutritious. Follow this simple and easy recipe and make delicious pear smoothie at home which not only saves money but also tastes much better than the restaurant one.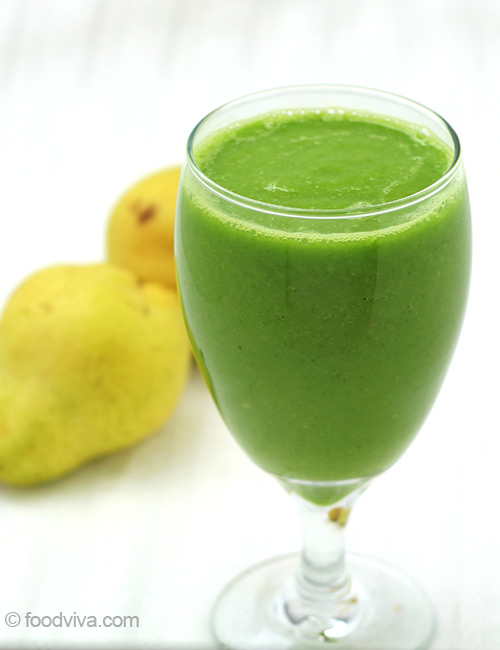 More Smoothie Recipes
Preparation Time:
10 minutes
Ingredients:
1 Pear, peeled, cored and chopped (approx. 1½ cup)
1/2 Orange
1 cup Spinach
1/2 cup Almond Milk or Soy Milk or Normal Milk or Water
2-3 Ice Cubes
Directions:
Core and peel pear, cut it into quarters. Peel 1/2 orange, remove seeds and separate segments. Clean the spinach. In this recipe, "Blue Diamond" brand almond milk is used but you can use any other brand's almond milk or soy milk or normal milk.

Pour almond milk in a blender jar. Add quartered pear and segmented orange.

Add spinach and ice cubes.

Blend until smooth texture. Pour it into chilled serving glasses and serve.
Tips and Variations:
Having a best quality fully ripened pear is one of the bare necessities of this recipe. Choose organic and fully ripened pears to get best flavor of it.
Add more quantity of milk to reduce the thickness and get desired consistency.
Serving Ideas:
it can be served as a healthy fresh fruit drink in breakfast or by itself at any time of the day.