Plum Chutney is a perfect way to use up wonderful harvest of ripe plums before they rot. It not only enhances the taste of roasted pork, meat and chicken, but also a great way to preserve the fruit for anytime use. This recipe uses spices, which enhances its sweet taste by giving it a spicy touch.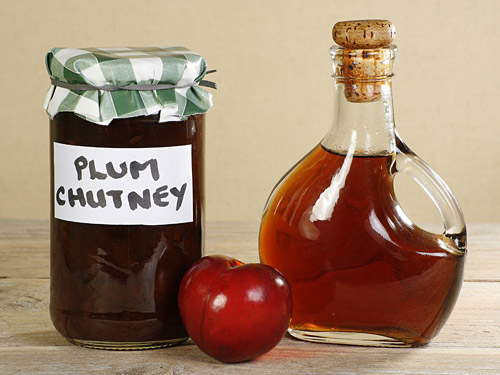 More Chutney Raita Recipes
Preparation Time:
15 minutes
Ingredients:
2 cups pitted, chopped Ripe Plums
1 teaspoon grated Fresh Ginger
2 Garlic Cloves, crushed
1/4 cup Raisins
1/4 teaspoon Cayenne
1 Cinnamon Stick
1/2 cup Sugar
1/3 cup Cider Vinegar
Salt (optional)
Directions:
Combine cider vinegar and sugar in a medium size saucepan, stir and cook over medium heat until sugar dissolves.
Add plum, grated ginger, crushed garlic, raisins, cayenne, cinnamon stick and salt, stir well and to mix all ingredients.
When mixture starts to boil, reduce heat to low and simmer for around 25-30 minutes until plums are cooked and mixture thickens. Stir in between occasionally.
After 25-30 minutes, if mixture is still runny, then simmer it for 5-10 minutes more. Cooking time may vary depending on the thickness and size of a pan you are using.
Pour spiced plum chutney into hot-sterilized jar, seal and store for at least 4 weeks before enjoying it. You can store it up to 6 months in refrigerator.
Tips and Variations:
If you like the flavor of star anise seed, then you can add it in above recipe for even spicier and flavorful taste.
Adjust quantity of the sugar according to sweetness of plums you are having.
You can also add fruits like apple, pear, peach, cranberry etc. to prepare spicy mixed fruit chutney.
Taste:
Sweet taste of plums with strong appetizing aroma of spices.
Serving Ideas:
It can be used as a spread for sandwiches as replacement of jam. It also enhances the taste of pork, meat and chicken when served as relish.