Fafda Chutney is a delicious dip served with fafda gathiya and various bhajias, a famous snack in Gujarat and Rajasthan. Unlike other chutney recipes, this recipe uses gram flour as main ingredient and involves sautéing. In addition to this, curd, green chilli and various other spices are mixed to give it a taste and texture which sets it class apart.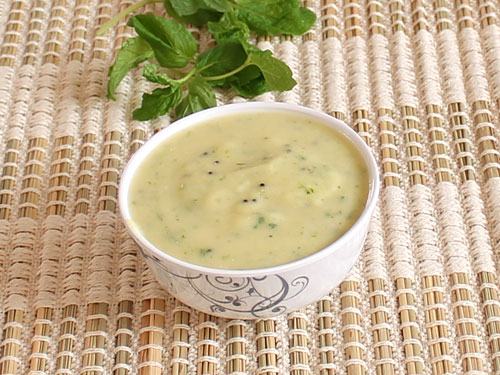 More Chutney Raita Recipes
Preparation Time:
5 minutes
Ingredients:
1/4 cup Gram Flour (besan/chick pea flour)
1/4 cup Sour Curd (Yogurt)
1/4 teaspoon Black Salt (sanchal)
2 Green Chillies, chopped
1 teaspoon chopped Ginger
2 tablespoons chopped Green Coriander Leaves
1 tablespoon chopped Mint Leaves
1 pinch Asafoetida
1/2 teaspoon Mustard Seeds (optional)
1 teaspoon Sugar, optional
Salt
1 tablespoon Cooking Oil
2 cups Water
Directions:
Grind ginger, green chillies, coriander leaves, mint leaves in grinder and make a paste. Keep it aside until required in further steps.

Mix gram flour, curd and 2 cups water in a bowl. Blend mixture using hand blender until it becomes smooth and consistent. Make sure there are no lumps.

Heat 1 tablespoon oil in a medium size pan. Add mustard seeds; when seeds start popping, add asafoetida.

Add prepared mixture of gram flour followed by black salt, sugar and normal salt (according to your taste) and let it boil over medium flame.

When it starts to boil, reduce the flame to low and cook until raw smell of gram flour goes for around 5-7 minutes. Stir occasionally to prevent mixture from sticking and burning at bottom of a pan. Turn off flame and add ginger-chilli-mint-coriander paste (prepared in step 1).

Mix well and transfer it to serving bowl. Tasty besan chutney is ready.
Tips and Variations:
If you like more diluted chutney, then add 1/2 cup more water in step-6 before turning of flame; cook for 3 minutes over medium flame and adjust salt according to it.
If you do not like flavor of mint, then you can avoid them.
Making chutney for fafda is very easy and you cannot go wrong with it. However, you can adjust the quantity of chilli and ginger to make it as spicy as you like.
Taste:
Deliciously spicy with refreshing mint flavor
Serving Ideas:
Traditionally fafda chutney is served with onion bhajia. However, it is a great accompaniment to any Indian snack which calls for chutney.