Green Chutney (Hari Chutney, Dhaniya Chutney) is a yummy, mouth-watering, spicy chutney. This recipe uses coriander leaves, green chillies and groundnuts as base ingredients while garlic, ginger, sesame seeds and fresh coconut are used to give it a delightfully spicy taste and flavor profile. Just a dash of this stunning chutney in any Indian chat preparation will give a new dimension to its taste.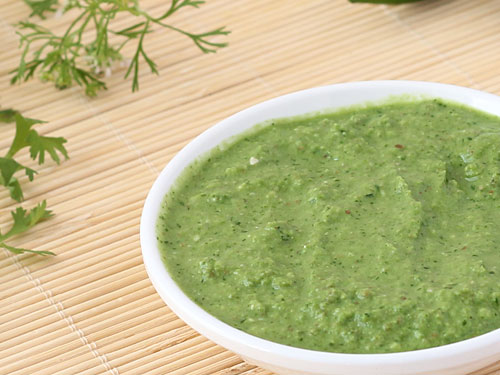 More Chutney Raita Recipes
Preparation Time:
5 minutes
Serves:
4 servings (1/3 cup)
Ingredients:
1 cup finely chopped coriander leaves
1/2 teaspoon cumin seeds
1 teaspoon groundnuts
1/2 teaspoon sesame seeds (til)
2 teaspoons shredded fresh coconut
3 garlic cloves
1 green chilli, seeded and chopped
1/4 inch ginger, roughly chopped
1 teaspoon sugar
1 teaspoon lemon juice
salt
1½ tablespoons water
Directions:
Add cumin seeds, groundnuts, sesame seeds and coconut in a small chutney jar of mixer-grinder.

Grind them in a grinder until smooth powdery paste.

Add coriander leaves, garlic, green chilli, ginger, sugar, salt, lemon juice and 1½ tablespoons water.

Grind again and make a smooth paste. Taste for salt and lemon juice, add more if required and mix well.

Transfer it to serving bowl. Serve it as a condiment with snacks like rava dhokla, etc.
Tips and Variations:
Add some water to make it diluted and use it for making bhel puri or sev puri.
Mix 2 tablespoons yogurt to make instant green yogurt dip.
Taste:
Spicy and mild tangy
Serving Ideas:
Indian green chutney is a must have condiment for gathiya, chevdo, sandwich, daal-bati, bhel, etc. and can be used as a dip or spread and tastes great with just anything. Semi dry hari chutney is typically used as spicy spread for sandwiches.