Papaya chutney is a must have accompaniment with many Indian snacks. In Gujarat, it is known as papaya sambharo and typically served as accompaniment with gathiya and snacks. In West Bengal, it is known as plastic chutney and served in main course. This recipe is for making green papaya chutney that can be served with snacks as marinated salad. However, you can follow tips and variation to make any of the above mentioned regional chutneys.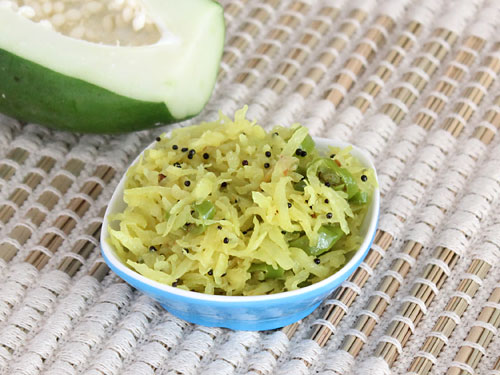 More Chutney Raita Recipes
Preparation Time:
5 minutes
Ingredients:
1 cup peeled, grated Raw Papaya
3-4 Green Chillies, chopped
1/4 teaspoon Mustard Seeds
1 pinch Asafoetida
1 pinch Turmeric Powder (optional)
1 tablespoon Cooking Oil
Salt
2 Tablespoons Water
Directions:
Heat oil in a non-stick pan or heavy based pan over medium flame. Add mustard seeds; when seeds begin to crackle, add a pinch of asafoetida.

Add green chillies and sauté for 1/2 minute. Add grated papaya and salt. Mix well and cook on medium flame for 2-3 minutes.

Add 2 tablespoons water, mix well. Cook covered on low flame until papaya is tender or for approx. 4-5 minutes. Stir in between occasionally to prevent sticking.

Add turmeric powder and mix well. Turn off flame and transfer prepared chutney to serving bowl.
Tips and Variations:
Replace grated papaya with its slices for different texture of Gujarati papaya sambharo.
To make Bengali plastic chutney, avoid green chillies, avoid mustard, add 2 teaspoons raisins, 1/4 cup sugar and 1 tablespoon lemon juice; cook until sugar dissolves completely (step-3) in above recipe.
Serving Ideas:
Serve raw papaya chutney with roti, curry and dal for a complete meal. You can also serve it with Indian snacks like gathiya and farsi puri.