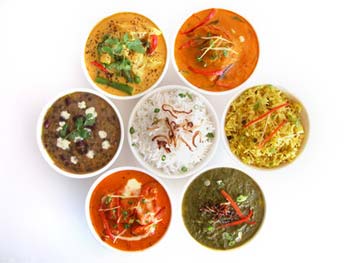 The perfectly balanced sugary, sour and spicy taste of pineapple chutney (ananas chutney) prepared with this recipe is simply indulging. Sautéed onion seeds, fennel seeds and mustard seeds give new dimension to aromatic flavor of cinnamon and cloves while red chilies bring its own hot nuances making soft and syrupy cooked pineapple pieces irresistible.
More Pineapple Recipes
Preparation Time:
10 minutes
Ingredients:
1 cup finely chopped Pineapple (Ananas)
1/8 teaspoon Mustard Seeds
1/8 teaspoon Cumin Seeds
1/8 teaspoon Fennel Seeds
1/8 teaspoon Onion Seeds (Nigella Seeds/Black Cumin)
2-3 Dry Red Chillies (optional)
1 Cinnamon Stick (broken into 2-pieces)
2 Cloves
2 teaspoons Raisins
1/4 cup Sugar
1/4 cup Water
2 teaspoons Oli
Salt
Directions:
Heat oil in a non-stick pan over low flame. Add mustard seeds, cumin seeds, fennel seeds, onion seeds, dry red chilli, cinnamon and cloves. When mustard seeds start to splutter. Add chopped pineapple, raisins and sugar. Mix well and cook for 3 minutes.
Add 1/4 cup water and salt. Bring mixture to boil over medium flame.
When mixture starts to boil, reduce flame to low and simmer for 10-15 minutes until pineapple pieces become soft. Stir in between occasionally to prevent sticking.
When mixture turns thick, turn off flame and let it cool at room temperature.
Transfer prepared pineapple chutney to serving bowl or store it in a jar for later use. Keep it refrigerated and enjoy it for about a week.
Tips and Variations:
Use canned pineapple if fresh one is not available. Also use its liquid and avoid water; reduce sugar amount to 2 tablespoons as liquid is already sweetened. Also you need to simmer it only for 4-5 minutes because it is softer than fresh pineapple.
Taste:
Sweet, sour and spicy
Serving Ideas:
There are many ways in which sweet and tangy ananas chutney can be enjoyed. It goes well with simple paratha and kids would love to eat this fruit chutney with bread as a healthier alternative of jam. Use it as a relish or condiment for BBQ, roasted chicken, ham, pork, etc.