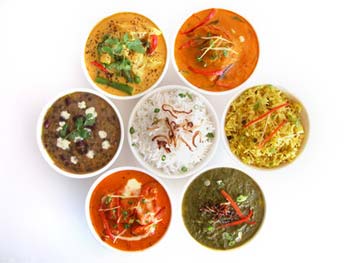 Pineapple Rice is a spicy and tempting rice preparation of Thai cuisine. It is a mixture of steamed rice and fresh pineapple with tempering of delicious spices. It is also known as pineapple fried rice.
More Thai Recipes
Preparation Time:
15 minutes
Ingredients:
3 cups Steamed Rice
1 Ripe Pineapple
1/3 cup finely chopped Carrot
1 medium size Onion, finely chopped
1 Green Chilli, finely chopped
1 Dry Red Chilli
1 teaspoon finely chopped Garlic
1/2 teaspoon grated Ginger
1 tablespoon Soy Sauce
6 roasted Cashew nuts
4 roasted Almonds
2 teaspoons Raisins
1 teaspoon Sugar (optional)
2 tablespoons Cooking Oil or Butter
Salt to taste
2 tablespoons Coriander Leaves (chopped)
Directions:
Take a fresh ripe pineapple. Cut it lengthwise into two equal parts. Do not remove its leaves. Remove pineapple flesh using a knife and keep its shell to be used as a serving container.
Chop half of the pineapple flesh and keep other half for other purpose.
Grind ginger, garlic and dry red chilli and make a fine ginger-garlic paste.
Heat oil in a wok and sauté chopped onion in it until light brown.
Add prepared ginger garlic paste and sauté for a minute.
Add chopped green chilli and chopped carrot; sauté until carrot becomes soft.
Add chopped pineapple, salt and sugar, mix well and sauté for a minute.
Add steamed rice, soy sauce, almonds, cashew nuts and raisins. Mix well and cook for a minute.
Turn off the stove and transfer prepared pineapple rice to plate or empty pineapple shells.
Garnish it with chopped coriander leaves and serve.
Tips and Variations:
You can also use 1/2 teaspoon turmeric powder in place of soy sauce for nice color.
Use tinned pineapple if fresh one is not available.
Taste:
Spicy, sweet and tangy
Serving Ideas:
Serve it with curd raita or as alone in lunch or dinner.