Chinese Fried Rice is one of the most popular fried rice recipes in the world. This vegetarian recipe includes lots of vegetables and sauces giving it a unique tempting flavor and color. The success of this recipe lies in using the correct type of long grained non-sticky steamed rice. Make sure that steamed rice does not have any lumps in it and each grain is separated (read tips given below to make them non-sticky). Serve it with Chinese dry manchurian or gravy manchurian and savor the indulge into authentic Chinese flavor.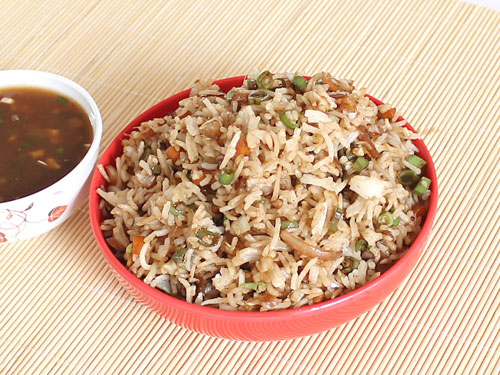 More Chinese Recipes
Preparation Time:
15 minutes
Ingredients:
2½ cups Steamed Rice
1 Onion
1 Green Chilli, optional
1 teaspoon finely chopped Ginger
1 teaspoon finely chopped Garlic
1/4 cup finely chopped Carrots
1/2 cup finely chopped Cabbage
2 stalks Spring Onion (green onion), finely chopped
1/4 cup finely chopped French Beans
1 tablespoon Soya sauce
1/4 teaspoon Black Pepper Powder
1 teaspoon Vinegar, optional
2 tablespoons Cooking Oil
Salt
Directions:
Cut onion into thin slices and finely chop green chilli.

Heat oil in a wok or frying pan over medium heat and sauté sliced onion, green chilli, chopped ginger and chopped garlic; sauté them for a minute.

Add carrot, cabbage, spring onion and French beans and stir-fry them for 2-3 minutes. Make sure that vegetables are not over cooked, they should be slightly crispy but not soft.

Add and mix black pepper powder, soya sauce and salt.

Add previously prepared steamed rice and vinegar. Mix gently. Do not stir too much otherwise rice grains may break. Cook for 2-3 minutes over medium flame.

Turn off the flame and transfer Chinese fried rice to a serving bowl. Serve hot with manchurian gravy.
Tips and Variations:
Add 1 teaspoon oil or 3-4 lemon drops while preparing steamed rice to make them non-sticky and separated.
For variation, add chopped vegetables like celery, green peas, capsicum, etc.
Add chilli sauce for a spicy taste.
Use Basmati rice to make it more flavorful and aromatic.
Serving Ideas:
Serve it with manchurian and chilli sauce. It also goes well with any Chinese soup. Many people like veg fried rice with tomato ketchup as well.