It is a nutritious and heavenly delicious Gujarati sweet dish prepared from cracked wheat, milk and lots of dry fruits. In Gujarat, people celebrate festivals like Makar Sankranti (Uttarayan – a kite festival) by preparing, eating and sharing homemade sweet khichdo.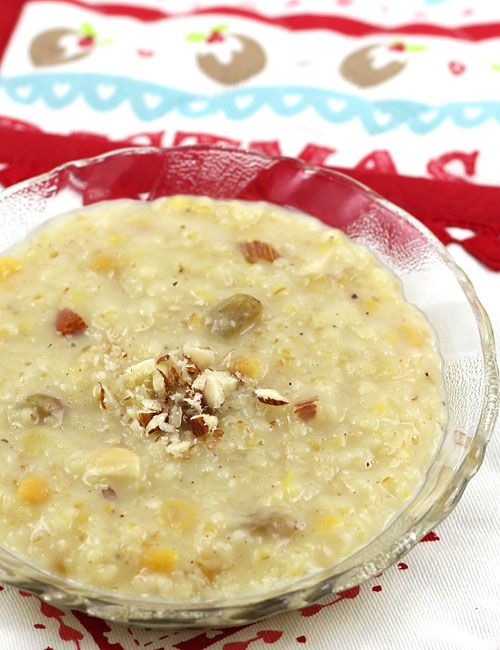 More Desserts Sweets Recipes
Cooking Time:
25 minutes.
Ingredients:
1/4 cup Cracked Wheat (wheat fada)
1 tablespoon Chana Dal, optional
1 tablespoon Toor Dal (tuvar dal/ arahar dal), optional
1/4 cup Milk
1 tablespoon Ghee
4 tablespoon (1/4 cup) Sugar (or less, according to taste)
A pinch of Cardamom Powder
A pinch of Nutmeg Powder, optional
A pinch of Clove Powder, optional
4-5 Raisins (kismis)
4-5 Cashew nuts (Kaju), chopped
4-5 Almonds (badam), chopped
Directions:
Craked wheat is known as wheat fada in some regions. It is easily available in grocery stores.

Wash cracked wheat, tuvar dal and chana dal and soak them in water for an hour.

Drain excess water from soaked cracked wheat, chana dal, tuvar dal and add them in a 2-3 liter capacity pressure cooker. Add 1-cup water and close the lid.

Pressure cook it for 4-whistles over medium flame. Turn off the flame and let the pressure releases naturally. Open the lid, as you can see the cracked wheat is cooked and turned soft.

Add milk and sugar.

Mix well and cook it over medium flame until mixture turns thick for around 3-4 minutes. Stir in between occasionally to prevent sticking.

As you can see in the photo, the mixture has begun to thicken now.

Add ghee, cardamom powder, nutmeg powder, clove powder and half of the dry fruits (raisins, almonds, cashew nuts). Mix well and cook for a minute.

Turn off the flame. Garnish Gujarati khichdo with the remaining dry fruits and serve hot or chilled.
Tips and Variations:
Add the spices powder (cardamom, nutmeg and clove) according to your taste.
If you don't want to add chana dal and toor dal, add 2-tablespoons more cracked wheat instead of it.
Serving Ideas:
Serve it on uttarayan day with peanut chikki and undhiyu. It can also be served as alone as a dessert.