Gujiya is a delicious sweet dumpling prepared during the festivals like Holi and Diwali in India. It is known as "Karanji" in Maharashtra, "Ghughra" in Gujarat and "Gujjia" in Rarajasthan and North India and made with slightly different stuffings/fillings in different regions of India. It has a crispy and flaky outer layer of maida and sweet stuffing of khoya (mawa), dry coconut, dry-fruits, cardamom powder and sugar. To give the shape to gujiyas, specific type of mould is used nowadays. If you don't have the mould, don't worry because you can also shape it easily without using the mould (follow the directions given below in the recipe). Before making this sweet, don't forget to read the tips and directions given with step by step photos to make them perfect.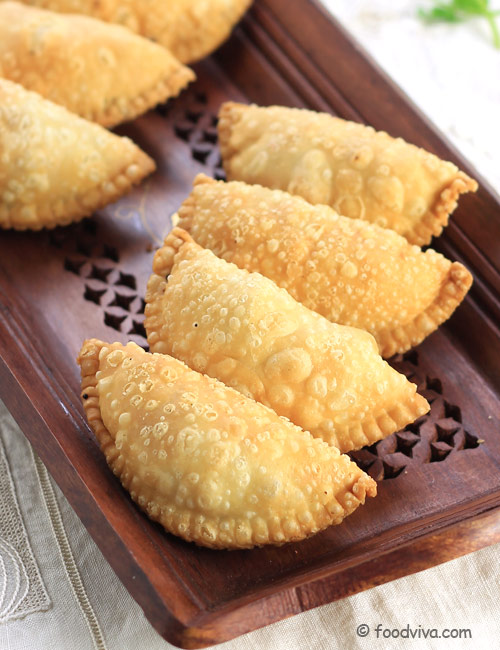 More Desserts Sweets Recipes
Preparation Time:
30 minutes
Ingredients For Cover:
1 cup Maida (all purpose flour/plain flour) (approx. 125 gms)
1½ tablespoons Ghee
Water as needed (approx. 1/4 cup)
Ingredients For Stuffing:
1/2 cup Milk Powder or 1/2 cup (approx.50-60 gms) crumbled or grated Mawa/khoya
1/4 cup Milk
1 tablespoon Ghee
1/2 cup Desiccated Coconut (dry grated coconut)(approx. 50 gms)
1/2 cup powdered Sugar (or 1-2 tablespoons less) (approx. 70 gm)
1/4 cup (4 tablespoons) chopped Mixed Nuts (Cashew Nuts, Almonds and Raisins)
1/4 teaspoon Cardamom Powder
Oil, for deep frying
Directions for Cover:
Take 1 cup maida and 1½ tablespoons ghee in a bowl having wide mouth.

Mix ghee and maida really well using your hands for at least a minute. The mixture will look crumbly as shown in the photo. This step is necessary to make the crispy outer layer.

Add water as needed and knead stiff dough (stiffer than paratha dough). Cover it with a moist muslin cloth and keep aside for 15-20 minutes.

While the dough is resting, let's make the stuffing.
Directions for Stuffing:
You can use either mawa or milk powder to make the stuffing according to the availability.
If you are using the khoya/mawa:

If you are using the frozen or refrigerated mawa, bring it at room temperature. Add mawa/khoya in a small pan and heat it over low flame.
Stir and cook the mawa for around 2-3 minutes or until it releases the little fat over medium flame. Don't cook it for longer time.
Turn off the flame and transfer the roasted mawa to a plate. Let it cool at room temperature until it is little warm.

If you are using milk powder (not using mawa)

Add ghee and milk in a small pan and bring it to a boil over medium flame.

When it comes to a boil, add milk powder little by little.

Stir continuously to mix well.

Stir and cook until mixture turns thick and turns into a big lump (as shown in the photo).

Transfer it to a plate/bowl and let it cool at room temperature.

When the mawa/milk powder mixture turns cool or little warm, add dry grated coconut/desiccated coconut and chopped mixed nuts (almonds, cashews and raisins).

Mix well.

Add cardamom powder and powdered sugar. (Don't add sugar while the mawa mixture is hot, otherwise sugar melts and mixture will turn runny).

Mix well. Stuffing is ready. It should be little moist.
How to Shape Gujiya/Ghughara/Karanji:
Knead the dough again for a minute and divide it into two equal portions. Take each portion and give a shape like long cylindrical roll. Cut each into 6-7 equal portions. Make a round shaped ball from each portion. (Keep the dough/dough balls/raw gujiyas covered all the time with moist cloth to prevent them from drying.)

Take one ball and press it a little on rolling board. Roll it out into a 3-inch diameter circle like puri.

You can shape the gujiyas in two different ways- 1.using mould and 2. without using mould
Shape the Gujiyas using a mould

Place a puri (rolled circle) over the mould. Put 2-3 teaspoons stuffing (more or less, depending on the size) on one side of the puri. Lightly moisten the edges of puri with a wet fingertip.

Cover the stuffing by folding the puri. Now, pack it tightly and remove the extra dough.

Place raw gujiya in a plate. Cover it with a damp cloth until oil is ready for frying. Make all the gujiyas in similar way.

Shape the Gujiya without using a mould

Moisten the edges of puri with a wet fingertip. Place 2-3 teaspoons stuffing in the center of rolled puri.

Wrap stuffing by folding puri to give a half moon shape (semi circle shape). Press its edges to seal it tightly otherwise stuffing will come out while frying and it will turn messy. Make a design on edges using a fork (as shown in the photo) or slightly cut rough edges with a knife or cutter to give a shape like gujiya.

Make all the gujiyas and cover them with a damp cloth. Heat oil in frying pan over medium flame. When oil is medium hot, add 3-4 gujiyas at a time. Deep fry them until light golden brown and crispy over low-medium flame.

It will take around 4-5 minutes to deep fry each batch. Drain excess oil with slotted spoon and transfer over kitchen paper to a plate. Gujiyas are ready. When they cool down completely, store them in an airtight container and consume within 5-7 days.
Tips and Variations:
Don't reduce the amount of ghee (moyan) while making the dough. If the amount of ghee (moyan) is less, the outer layer will not turn crispy. If the ghee (moyan) is too much, the outer layer may break while deep frying.
Do not fry them on very high flame otherwise they will not turn crispy.
Don't overstuff the gujiya otherwise the stuffing mixture will come out in the oil while deep frying.
Store it in airtight container and consume within 3-4 days. If you want to store it for longer then add roasted semolina instead of khoya.
How to make Sugar syrup coated Gujjia?

Boil 1/2 cup sugar and 1/4 cup water and prepare 1-thread consistency sugar syrup. Dip each fried semi circle in hot syrup, drain excess syrup and transfer to a plate.
Sprinkle sliced pistachio and sliced almonds over it. Let them cool for 1-2 hours at room temperature.
Serving Ideas:
 Serve it with other namkeen snacks like crispy methi puri, farsi puri, shakkar para during Diwali.