Homemade khoya (mawa/khoa) is the basic ingredient in many Indian sweets like
Gulab Jamun
and gravy of some many Punjabi curries. It plays the key in preparation of sweets and generally used as a thickening agent in milk based desserts like
rabri
and
basundi
. Making khoya or mawa at home is easy, cook milk on low flame until it turns thick and almost all moisture is evaporated; It is kind of a solid milk. The quantity of prepared mawa depends on the quality and fat percentage of the milk. In India, readymade mawa is generally available at grocery and sweet stores, however, some of the sweets generally prepared during festivals like Diwali requires freshly made mawa and only way to get it is by making it at home. This step by step photo recipe and cooking tips will help you to make mawa at home from scratch.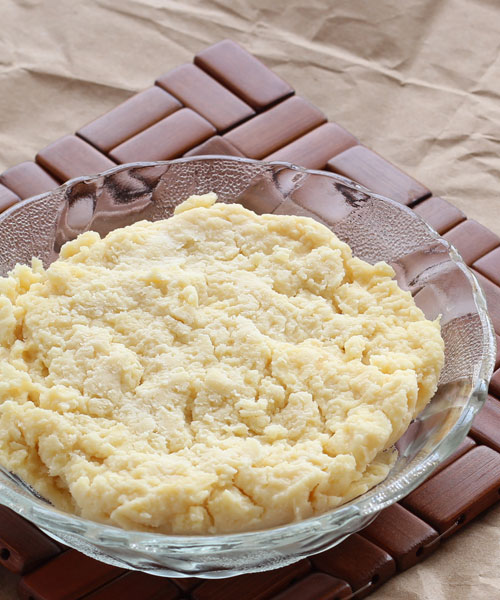 Preparation Time:
 5 minutes
Cooking Time:
1 hour 30 minutes
Serves:
1 cup (approx. value)
Ingredients:
1 liter Full Fat Milk (full cream milk)
1 Non Stick Pan (or heavy based thick pan)
1 Spoon
Directions:
Take a non-stick pan or heavy based kadai and pour 1-liter full fat milk in it.

Bring the milk to boil over medium flame. When it starts to boil, reduce flame between low to medium. Scrap the sides and stir occasionally in between to prevent milk from sticking to the bottom.

After 20-25 minutes, milk will reduce to almost half in quantity and will turn thicker. As it starts to thicken, the color would change from milky white to light yellow.

As milk thickens, the chances of it sticking to the bottom of the pan increases. Stir frequently to prevent sticking. Almost after an hour, milk will turn into chunky malai with semi solid texture.

Stir continuously from this stage to prevent it from burning. Cook until almost all moisture evaporates and it turns into thick solid mass as shown in the photo. Turn off the flame and let it cool to room temperature. As it cools down, mawa will turn thick. once it cools down completely, store it in an airtight container in a refrigerator and consume it within 3-4 days.
Tips and Variations:
Stir milk at regular intervals for first hour and then continuously while making khoya.
Use non-stick pan to prevent milk sticking to the pan.
You can prepare it in larger quantity also but it will take more time depending on the quantity of milk and type of vessel being used.
Use full fat milk to get larger quantity of khoya from the same amount of milk.
Khoya will turn thicker and it will dry further after cooling and during refrigeration.
If you plan to use mawa instantly to prepare any sweets then cook it a little longer. This will help reduce any remaining moisture.
Serving Ideas:
 Use mawa to make sweets like
gulab jamun
, peda, rabri or curries like khoya kaju, navartna korma etc.