Soft, spongy and melt in mouth gulab jamuns drenched in delicately flavored sugar syrup is a traditional sweet in India. There are many ready-made Instant mixes available in market but no one comes even close to the taste of homemade gulab jamuns made from traditional mawa or khoya with this recipe. Yes, this recipe uses khoya to get the desired texture and flavor. This recipe also steers away from using rose flavored sugar syrup for more rich and delighting saffron flavored syrup. Make it from scratch today and shower your taste buds with its unforgettable taste.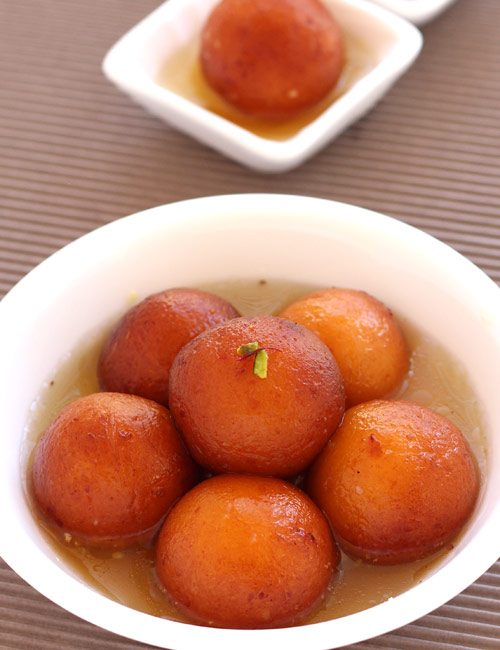 More Desserts Sweets Recipes
Preparation Time:
15 minutes
Serves:
5 servings (15-16 jamuns)
Ingredients:
1/2 cup Maida (All Purpose Flour)
1 cup grated Mawa (Khoya)(approx. 200-225 gms)
1/8 teaspoon Baking Soda
Ghee (or oil), for deep frying
3-4 Green Cardamoms or 1/4 teaspoon Cardamom Powder (Elaichi Powder)
8-10 Saffron Strands (kesar)
1½ cups Sugar
2½ cups Water
Directions:
There are three different base items that are required for making this delicious sweet, mawa, sugar syrup and gulab jamun itself. Following steps describe how to make each one of them.

How to prepare Mawa (Khoya)?
Boil 1 liter milk (preferably full cream buffalo milk) in a heavy based pan or non-stick pan and cook over low flame until it turns very thick and there is no liquid left anymore, for around 1½ hours. Stir in between frequently to prevent sticking. Approx. 1 cup mawa will be prepared from 1 liter milk(use of full cream milk is recommended).
Note: If you do not want to prepare mawa at home, you can buy it from any Indian stores (if you are outside India) or from dairy store (if you are in India).

How to Prepare Saffron Flavored Sugar Syrup?
Take 1½ cups sugar, 3-4 green cardamoms (or 1/4 teaspoon cardamom powder) and 8-10 saffron strands in a deep pan.

Add 2½ cups water and bring mixture to boil over high flame. When it comes to rolling boil, reduce flame to medium and cook until sugar syrup is little sticky, it will take around 10-12 minutes. Stir occasionally in between. Turn off the flame. Sugar syrup is ready. After deep frying jamuns in later step, heat the sugar syrup for 4-5 minutes.
How to Prepare Jamuns?
Prepare 1 cup mawa by following the recipe given above or use readymade mawa. Crumble it using hand or grate it using a grater. Add 1/8 teaspoon baking soda and 1/2 cup sifted maida.

Mix them gently using a spoon.

As you can see, the flour is easily mixed with mawa because of moisture in mawa.

Knead all of them together until smooth dough is prepared. If required add a few teaspoons of milk to knead a smooth and soft dough (add one teaspoon milk at a time until smooth consistency of dough is achieved, do not add large amount in single go).

Divide dough into 16-18 equal parts, grease hands with ghee and make smooth surfaced balls from it. Make sure that there is no crack on the surface of balls because it will make jamuns to crack open while deep frying. If you are not able to form crack-less balls, then you need to make dough bit softer. To do this, add milk in dough, knead it again and roll the balls again. Do not make very large balls because they will increase in size after deep frying and soaking in syrup.

Heat ghee or oil (or 1/2 ghee and 1/2 oil) in a pan over medium flame. When ghee is medium hot, add a pinch of dough in hot ghee and if it comes upward immediately without changing it's color, ghee is ready. If it turns brown immediately, ghee is too hot. If it doesn't come upward, ghee is cold. Add prepared dough balls (4-6 at a time or depending on the size of a pan) and deep-fry them over low to medium flame. As you can see they will turn light golden and increase in size after a minute. If the jamuns turn dark brown immediately then the temperature of ghee is too hot, pour some cold ghee in to ghee to reduce the temperature.

After 3-4 minutes, they will turn light golden brown.

Deep fry them until they turn golden brown, it will take around 6-7 minutes. Cooking them evenly is the key to soft and textured gulab jamuns, increase or decrease flame intensity to keep the temperature of ghee even while frying them.

Drain and transfer them over kitchen napkin and let them cool for 5-minutes. As you can see, the balls are increased in size after deep frying. Do not add them directly into warm sugar syrup.

Add fried balls into warm sugar syrup (not hot syrup). If you add them into hot syrup, they will shrink in size.

Soak them for at least 1-2 hours before serving. As you can see in the picture, the jammuns are increased to almost double in size. Gulab jamuns are ready for serving. Serve them warm or chilled.
Tips and Variations:
If you fry jamuns on high flame, they will immediately turn brown from outside and remain uncooked from inside, so fry them on low to medium flame.
Do not make large size balls from dough because the size will increase after deep frying and soaking into the sugar syrup.
Don't add hot deep fried jamun directly into warm sugar syrup, let them cool for few minutes before adding and make sure the syrup is warm (not hot) while adding fried jamuns otherwise they will shrink in size.
It gets its name because of the use of rose water scented sugar syrup since ancient times. If you like the rose flavor, you can add small amount of rose water to get a rose flavor in the syrup (instead of using saffron). Alternatively, add few dried rose petals in syrup after it is prepared.
You can also use diluted maple syrup instead of saffron flavored sugar syrup for Canadian style gulab jamun.
For variation, garnish it with pistachio powder or shredded coconut.
Serving Ideas:
Serve it hot with vanilla ice-cream as a dessert or chilled as a sweet with meal. Celebrate Indian festivals like Diwali and Dussera in a traditional and healthy way with this sweet.