Gulab Jamun can be prepared in many different ways. However, the easiest and quickest way to make soft, melt in the mouth, dry fruits and saffron stuffed Gulab Jamun at home that tastes as good as ones
made from Khoya
is by using the ready mixes like ones from Gits, MTR, Ashirwaad etc. Preparing Gulab Jamun with ready mix not only reduces the preparation time but also allows you to learn the delicate cooking skill of having the right sugar syrup thickness, dough consistency and deep frying jamuns over medium-low flame which are crucial cooking steps for making perfect Gulab Jamuns at home (all these tricks are explained in detail as part of directions). The delectable filling of dry fruits and saffron gives Gulab Jamuns prepared with this recipe a "Shahi" touch (royal look and flavor) that you usually only get to see in the ones bought from sweet stores.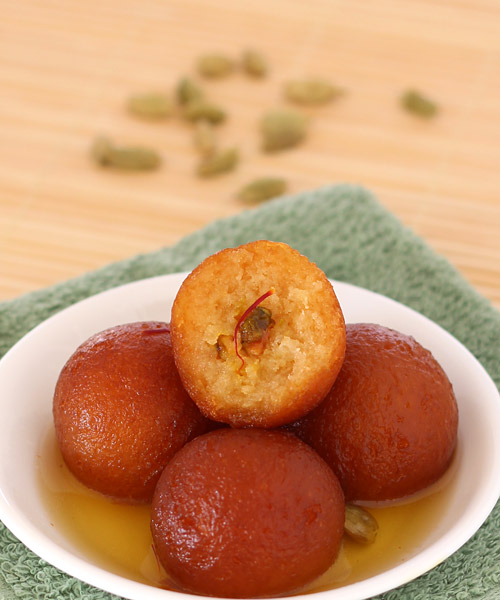 We have tried many different brands of Gulab Jamun ready mixes but our favorite is the Gits brand and is used in this recipe, however you can replace it with any well known brand's ready mix available in your grocery store.
More Indian Recipes
Preparation Time:
20 minutes
Ingredients for Syrup:
1½ cups Sugar
2½ cups Water
8-10 Saffron Strands (kesar), optional
4 Green Cardamom Pods (or 1/4 teaspoon Cardamom Powder)
Ingredients for Jamun:
100 gms Pack of Gits Gulab Jamun Ready Mix (or any other brand)
3-4 tablespoons Milk or Water
2 tablespoons chopped Pistachio or Almonds, optional
10 Saffron Strands (kesar), optional
Oil or Ghee, for deep frying
Directions:
Take 1½ cups sugar, 4 green cardamom pods, 8-10 saffron strands and 2½ cups water in a deep pan.

Stir until sugar dissolves and bring it to boil over medium flame. When it comes to rolling boil, reduce flame to low and cook it until syrup turns little sticky, it will take around 10-12 minutes. When syrup is ready, turn off the flame.

Take a 100gms pack of Gits Gulab Jamun Ready Mix. (You can use any brand of ready mix.)

Open the packet and transfer its content to a wide mouthed bowl.

Sprinkle 3 tablespoons of milk evenly over it.

Mix it together gently using your hand. Do not worry if mixture turns sticky.

Knead the mixture into smooth and soft dough. If mixture turns dry, add few tablespoons of milk and knead again.

Prepare the dry fruit and saffron stuffing. Take chopped pistachio and saffron strands in a small plate. This is an optional process and you can skip this.

Divide dough into 18-20 equal sized small portions. Take one portion and make a round shaped ball from it (Grease your palms with ghee or oil to prevent dough from sticking to your skin while making balls). Press it a little between your palms and give it a flat pattie like shape as shown in the picture. Put a 5-6 pieces of chopped pistachio and a strand of saffron in the center.

Fold together edges such that it wraps the filling around it and make a round shaped ball from it.  Make sure that ball has smooth surface.

Make remaining balls in a same way. Cover the balls with wet cloth while you are making balls from remaining dough portions to prevent them from drying.

While you are making the balls, take oil/ghee in a deep frying pan and put it to heat over medium flame so that when you are done preparing balls, oil will be almost ready for deep frying them. Before proceeding to deep fry them, check whether oil/ghee is hot enough for deep frying – drop a small portion of mixture in oil and if it comes on the surface immediately without changing the color, oil/ghee is ready. If it turns brown immediately then oil is too hot and you need to reduce the heat to let to cool a bit, if it drops to the bottom, you need to heat it a bit longer. Add 3-4 balls in hot oil from the side and deep fry them over medium-low flame, stir occasionally to get even golden brown color on all sides. If required, increase or decrease the flame to low or medium to maintain the even temperature and deep fry evenly.

Drain jamuns using slotted spoon and transfer them over kitchen napkin on a plate. Let them cool for 4-5 minutes before adding them to sugar syrup. As you can see in the picture, the size of the the jamuns increases after deep frying. Deep fry the remaining balls.

Warm the sugar syrup by heating it over medium flame for around 4-5 minutes. Turn off the flame and add deep fried jamuns in it and keep them in syrup for at least 1-2 hours before serving. In photo you can see how the size of jamuns deep fried in the first batch has increased compared to the ones deep fried in the second batch (two small jamuns near top of the photo are from second batch).

Notice the size of jamun at different stages of preparation – raw, after deep frying and after absorption of sugar syrup. Gulab Jamun with ready mix can now ready for serving. Serve it warm or put them in the refrigerator and serve chilled.
Tips and Variations:
Mixture should be soft in step-7 to make soft jamuns. If dough turns dry while making balls, add few tablespoons of milk in it and knead again.
Sugar syrup must be warm (not hot) when you add deep fried jamuns in it.
Allow jamuns to cool for 5-minutes after deep frying before adding them to warm sugar syrup.
Have patience while deep frying as it will take sometime to cook and turn dark brown over low-medium flame.
Use ghee instead of oil to get the authentic flavor.
If you want prefer oil over ghee for deep frying, consider adding 2-3 tablespoons ghee in oil to get its nice flavor without its calories.
You can skip stuffing them with dry fruits; it's an optional process.
Serving Ideas:
 Serve chilled Gulab Jamun as a dessert or as a sweet dish. Warm Gulab Jamuns and scoop of vanilla ice cream is a match made in heaven.