Churma, a traditional Rajasthani sweet typically served along with Dal-Bati, is prepared by grinding or crushing baked or deep fried Bati into fine powder using a grinder and then thoroughly mixing it with melted ghee, sugar and dry-fruits. With the exception of salt not being added in the dough, Bati (aka Baati or Batti) for both
Dal Bati
and Churma is prepared in same way by either baking it in oven or deep frying it in Ghee or cooking oil. This Rajasthani Churma recipe explains how to prepare baked Bati using oven and deep fried Bati using ghee with step by step photos.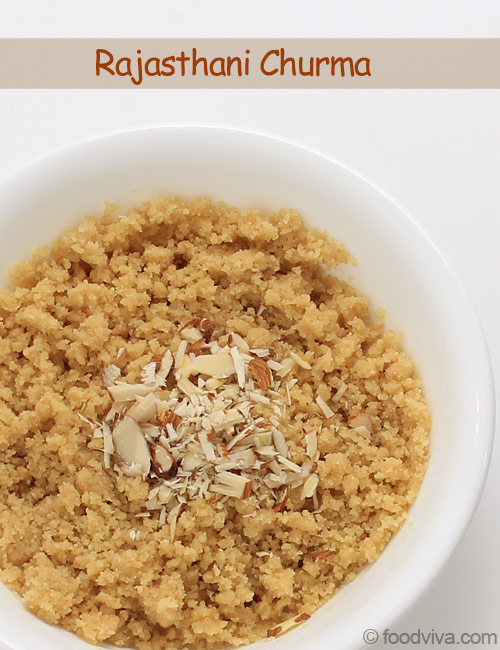 More Desserts Sweets Recipes
Preparation Time:
20 minutes
Ingredients:
1/2 cup Whole Wheat Flour (atta)
2 tablespoons Rava (semolina/sooji)
2 tablespoons Ghee or Oil (for dough)
Milk or Water, as needed to bind the dough
3 tablespoons Melted Ghee (for churma)
1/4 cup powdered Sugar
2 tablespoons chopped Dry-fruits, for garnishing
Note:
You can prepare Bati (aka Baati or Batti) in two different ways, 1. Either deep fry them in ghee or 2. Bake them in the oven. You can choose either of the ways to prepare it but both requires dough to be bind in same way.
Directions:
This step explains how to prepare dough for Bati in brief; for detailed steps with individual photos, follow this Rajasthani Bati Recipe – Place whole wheat flour, rava, and 2-tablespoons ghee in a large bowl. Mix all ingredients well using your hand until mixture turns crumbly. Add milk little by little and bind the hard dough. Cover the dough with a lid and set aside for 10-minutes. Divide it into 4 equal portions and make round shaped balls from it. Flatten each ball little by pressing it between your palms.

Prepare Deep Fried Bati (without Oven) – heat cooking oil and deep fry raw Batis in it over medium flame until light golden brown and crispy from outside. OR Prepare Baked Bati Using Oven – Pre-heat oven to 190 degree Celsius (375 degree Fahrenheit). Transfer raw Batis to baking tray and place it in oven and bake them at 190 degree Celsius (375 degree Fahrenheit) for around 12-15 minutes. Take out the baking tray from oven and carefully flip each Bati upside-down to cook it on both sides evenly. Place the tray in the oven again and bake for 10-12 minutes until top surface turns light golden brown. Remove them from oven and let them cool for 10 minutes. Bati is ready.

Break Batis into small pieces using your hand and place them in mixer grinder jar.

Grind until smooth powder.

Transfer it to a large bowl and add 1/4 cup powdered sugar and 3 tablespoons melted ghee.

Mix well and taste for the sweetness, if more sweetness is needed then add more powdered sugar to your taste and mix well. Garnish Churma with dry-fruits and serve with

Dal-Bati

.
Tips and Variations:
You can adjust the quantity of ghee according to your choice in step-4.
Add a pinch of cardamom powder in step-4 for nice aroma and flavor.
Serving Ideas:
Rajasthani Churma is generally served with
Dal-Bati
as a traditional meal in Rajasthan. It can also be enjoyed as a sweet with any North Indian lunch or dinner.