Nan khatai is an authentic Indian sweet and savory eggless cookie that can be easily prepared at home. In its authentic recipe, ghee, maida, rava (sooji), gram flour (besan) and sugar are used but nowadays it is generally prepared without using gram flour and rava. In this recipe, we have not added gram flour but used rava as it gives crispy texture to cookie. In this step by step photo recipe of nan khatai, you will learn how to make this buttery cookie at home in just under 20 minutes.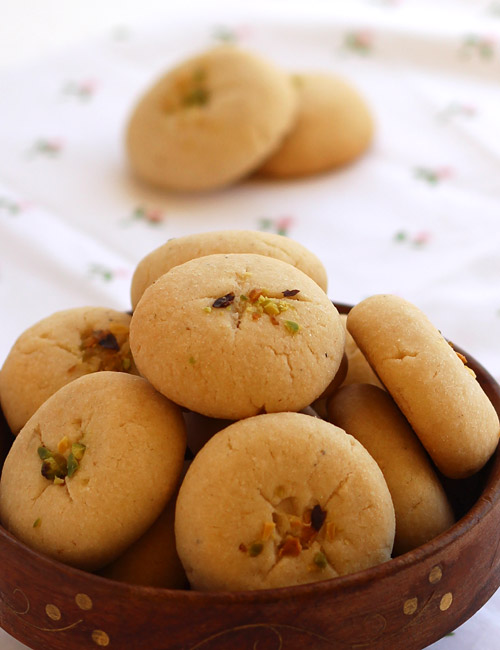 More Diwali Recipes
Preparation Time:
15 minutes
Ingredients:
1 cup + 2 tablespoons Maida (all purpose flour)
2 tablespoons Semolina (fine rava/sooji)
1/4 teaspoon Baking Soda
A pinch of Salt
1/2 cup Unsalted Butter (or ghee), at room temperature
1/2 cup Powdered Sugar (or little less)
1/4 teaspoon Green Cardamom Powder
1 tablespoons finely chopped Pistachio, for garnishing
Note:
If you are using salted butter, do not add salt with dry ingredients in step-1. If you are using unsalted butter, add a pinch of salt with dry ingredients.
Take butter out from refrigerator 30 minutes before starting step-1.
You can also microwave the refrigerated butter for 5 seconds. Do not microwave for longer than 5 seconds to prevent it from melting completely as this recipe requires soft unmelted butter.
If you are using ghee instead of butter, it should have semi solid consistency (grainy texture). It shold not be completely melted.
Directions:
To powder the sugar, grind it in a small jar of a mixer grinder or a blender. Sieve (1 cup) maida in a bowl, add 2 tablespoons semolina, 1/4 teaspoon baking soda and a pinch of salt.

Mix them with a spoon.

Take 1/2 cup butter or ghee and powdered sugar in another bowl.

Beat them using a wire whisk or hand mixer until smooth and soft. Add 1/4 teaspoon cardamom powder and beat again.

Add sieved dry ingredients (from step-1).

Mix well and make a dough using hand. If the dough looks very greasy, add 1-2 tablespoons more flour and mix well (don't add too much flour).

Preheat oven to 350 degree Fahrenheit (180 degree Centigrade) for at least 10 minutes. Divide dough into 18 equal portions and make round shaped balls from it. Line a parchment pepper or an aluminum foil over baking tray. Take each ball and press a little between your palms to give it a patty like shape and place it over baking tray. If you want, you can make a criss-cross cut using a knife over top surface of each cookie. Top each one with a little bit of finely chopped pistachio and press gently with your finger. Keep enough space between each cookie because it will expand in size during baking.

Place baking tray in preheated oven and bake at 350 degree Fahrenheit (180 degree Centigrade) for around 15-18 minutes or until cookie starts to turn light golden in color. After 15-minutes, check the cookies and keep an eye on it while further cooking (every oven has different settings and it may little longer or shorter time)

Remove baking tray from oven and transfer cookies over cooling rack (or wire rack). Cookies will be soft at this time but they will turn crispy and hard (not rock hard) as they cooldown. Once at room temperature, they are ready to enjoy. Transfer them to an airtight container for storage and consume them within 2-weeks.
How to Make Nan Khatai without Oven (using a Pressure Cooker or a Pan):
Take an aluminum pressure cooker or a heavy based deep pan.
Fill the cooker with salt or sand till the 2-inches height.
Put a stand over it.
Heat the cooker over medium flame for 5-minutes.
Put a nan-khatai plate over it in the cooker and close the lid (don't forget to remove the gasket and whistle from the cooker lid). If you are using a pan, use the plate or any lid to cover it.
Cook it for 15-minutes over low flame. Check the nan-khatai after 15 minutes and cook for few more minutes if required.
Tips and Variations:
Do not change the ratio of butter/ghee and all other ingredients. It is critical for crunchiness of the cookies.
To prevent the nan-khatai from turning flat, make sure that butter or ghee is not completely melted.
If dough is very soft in step-7 then keep it (covered) in refrigerator for around 10-15 minutes before making raw cookies.
You can use 1/2 cup whole-wheat flour and 1/2 cup maida instead of using 1 cup maida.
Do not forget to preheat oven for at least 10 minutes as right temperature is absolutely necessary for perfect baking.
Every oven has different settings and can take different time to cook so keep an eye on nankhatai after about 15-minutes of initial baking.
Taste:
 Sweet and crunchy
Serving Ideas:
 Serve eggless nan khatai with tea as afternoon/tea-time snack or with any savory snack like
farsi puri
or
maida chakli
or methi puri or namak para etc.