Dal Bati – a crisp and melt in mouth thick and round shaped baked wheat flour bread drizzled with ghee and generously topped with Panchmel Dal (protein rich five types of mixed lentils dal), is a delicious traditional Rajasthani wholesome meal best enjoyed with spicy Garlic Chutney and
Churma
. In its authentic preparation, Bati (aka Baati, Batti) is cooked directly over heated charcoal that gives it a burnt smoky flavor; this authentic preparation requires expert cooking skills and it's not easy, safe and practical to prepare inside the house in a closed kitchen. However, it doesn't mean that you can't prepare and enjoy it at your home – this recipe uses electric oven to cook Bati and also explains how to cook it using Gas Tandoor and an alternative Deep Fry approach (
see Tips and Variations below
) with step by step photos.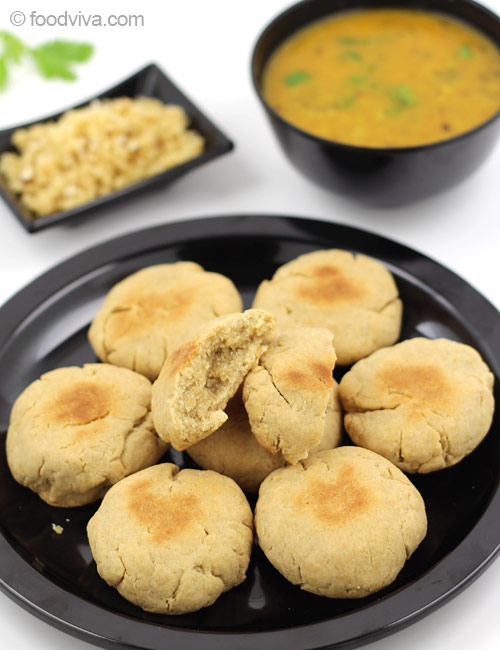 More Rajasthani Recipes
Preparation Time:
20 minutes
Ingredients:
1 cup Whole Wheat Flour (atta)
1/4 cup Rava (semolina/sooji)
A pinch of Baking Soda (soda-bi-carbonate)
4 tablespoons Ghee (recommended) or Cooking Oil + Melted Ghee to dip prepared Batis
Salt to taste
Milk or Water, as needed
Panchmel Dal, for serving
Directions:
Pre-heat oven to 190 degree Celsius (375 degree Fahrenheit). Sieve whole wheat flour in a large bowl. Add rava, baking soda, 4 tablespoons ghee (or cooking oil) and salt (do not add salt if you are preparing Bati for Churma).

Mix all ingredients well using your hand. The mixture will turn crumbly as shown in the photo.

Add milk in small quantities and bind the stiff dough. It should be stiffer than paratha dough. Cover it and rest it for 10-minutes.

Divide dough into 8-equal portions and make round shaped balls from it. Don't worry if balls have few cracks, it is normal. Gently press each ball in-between your palms and flatten it into a thick pattie. Arrange them on a baking tray with a small gap around them.

Place baking tray in the pre-heated oven and bake raw Batis at 375 F (190 C) until bottom surface turns light brown, it will take around 12-15 minutes. Take it out from the oven (be careful) and flip each Bati upside-down to cook the other surface. Place baking tray in oven again and bake for another 10-12 minutes. Take the tray out from the oven.

Take melted ghee in a small bowl. Dip each Bati in it and transfer to a plate. You can also apply ghee on the surface of bati using a brush.
Tips and Variations:
How to Cook Bati using Gas Tandoor? – Heat the Gas Tandoor, place raw Batis on the grill of a Gas Tandoor and cook on medium flame for around 20-25 minutes. Flip once in between to cook from both sides.
How to Cook Bati without Oven or Tandoor? – Deep fry them in cooking oil over medium-low flame until both sides turn light golden brown. Since they are thick, it and will take more time to cook from inside and must be cooked on medium-low flame.
Different brands of oven have different settings, so adjust the cooking time according to it.
We recommend to use Ghee instead of cooking oil for preparing dough as it gives both taste and crisp yet melt in mouth texture to Bati. Don't reduce its quantity for preparing the dough.
Taste:
Crisp from outside and soft from inside
Serving Ideas:
Break each Bati into small pieces using your hand, pour
panchratna dal
over it, drizzle some ghee over it and serve with Rajasthani Churma as a wholesome meal.