Lasun Chutney (Lahsun ki Chutney) is the very spicy and fiery chutney prepared by grinding garlic, chilli powder, cumin seeds and coriander powder. This simple and easy to make chutney is very popular in India and can be used in many different ways. When used appropriately, it can simply change the taste of curries, snacks, bhel and chaats and makes them even tastier, spicier and enjoyable. Try this today and see how you get addicted to it in no time.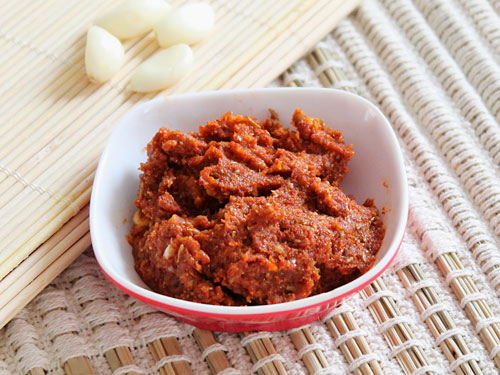 More Chutney Raita Recipes
Preparation Time:
5 minutes
Serves:
4 servings (1/4 cup)
Ingredients:
25 Garlic cloves (lasun)
3 teaspoons Red Chilli Powder
1/2 teaspoon Cumin Seeds
2 teaspoons Coriander Powder
1/2 teaspoon Salt (or to taste)
Directions:
Remove the skin of garlic cloves and take them in a small plate.

Grind garlic cloves, cumin seeds, coriander powder, red chilli powder and salt in grinder until medium coarse paste. (Do not add water while grinding).

Transfer prepared chutney to serving bowl and serve with Gujarati bhakri and tomato curry (sev tameta nu shaak) in dinner. You can store this chutney in a small airtight container in refrigerator for a week.
Tips and Variations:
Add 3 tablespoons water and 1 teaspoon lemon juice to make lasun chutney for bhel puri, sev puri or any chaat.
Use mortar and pestle instead of grinder or food processor to make an authentic lasun ki chutney similar to one prepared in rural areas. The use of mortar and pestle to make it will be worth the effort as it tastes much better.
Serving Ideas:
It is a great add-on for any Indian curries. Add lahsun chutney in a curry which calls for use of garlic to make it more flavorful.
You can also have it as a part of the meal as accompaniment. In rural areas of India, it is usually served with bajra rotis and dal.
Add some water or yogurt to make a delicious spicy dip. Use it for preparing chaat or bhel and make them yummier and spicier.