Gatte ki sabzi, an authentic dish from Rajasthani cuisine is a delicious curry prepared with gram flour as base ingredient. Gatte means cooked gram flour dumplings, which are added to the spicy curd gravy to make this irresistible curry. It tastes best when served with roti or any delicious Indian flat bread, dal and plain rice in lunch. Learn how to make this easy dish by following the given step by step recipe.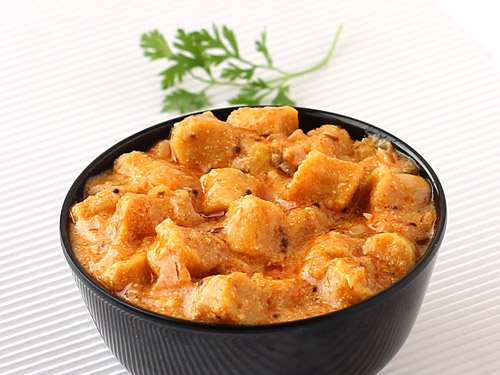 More Rajasthani Recipes
Preparation Time:
10 minutes
Ingredients:
For Dumplings
3/4 cup Gram Flour
1/4 teaspoon Turmeric Powder
1/4 teaspoon Red Chilli Powder
1/4 teaspoon Cumin Seeds
1/4 teaspoon Garam Masala Powder
1 teaspoon Oil
Salt to taste (or 1/3 teaspoon)
For Gravy
1/4 teaspoon Mustard Seeds
1/4 teaspoon Cumin Seeds
A pinch of Asafoetida
1 teaspoon finely chopped Ginger
1 Green Chilli, finely chopped
1 small Onion, finely chopped
1/2 teaspoon Coriander Powder
1/3 teaspoon Red Chilli Powder
1/4 teaspoon Garam Masala Powder
1/4 cup Curd (yogurt), slightly beaten
1 tablespoon + 1 tablespoon Oil or Ghee (clarified butter)
3 tablespoons finely chopped Coriander Leaves
Salt to taste (or 1/2 teaspoon)
Directions For Making Dumplings:
Mix gram flour, turmeric powder, 1/4 teaspoon red chilli powder, 1/4 teaspoon cumin seeds, garam masala powder, 1-teaspoon oil and 1/3 teaspoon salt in a large bowl.

Gradually add water and knead smooth and stiff dough (like paratha dough).

Grease your palms with oil, divide it into 7-8 equal portions and roll each portion into 1/2-inch thick and approx. 4-5 inches long cylindrical shape.

Boil 3-cups water in a pan over medium flame. When it comes to rolling boil, add cylindrical rolls in it.

Cook until they start to float on the surface of water for approx. 8-10 minutes. Turn off flame.

Remove cylindrical rolls from water and transfer to a plate. Keep remaining water for making gravy. Let them cool for 5-7 minutes. Take one cylindrical roll at a time and cut it into 1/2-inch long pieces. Do this process for remaining ones. Gattes are ready.
Directions for Making Gravy:
Heat 1-tablespoon oil (or ghee) in a heavy based pan or non-stick pan. Add chopped cylindrical rolls and shallow fry them over medium flame for 2-minutes. Transfer them to the same plate.

Add remaining 1-tablespoon oil (or ghee) in the same pan and heat it over medium flame. Add mustard seeds; when they start to crackle, add 1/4 teaspoon cumin seeds, asafoetida, ginger and green chilli and sauté for 20-30 seconds. Add finely chopped onion and sauté until it turns translucent.

Add coriander powder, 1/3 teaspoon red chilli powder and garam masala powder, sauté for 30-40 seconds. Add beaten curd (mix 1-teaspoon gram flour with curd to prevent it from curdling). Mix well and cook the mixture until oil comes on the surface for approx. 1-2 minutes.

Add 1-cup water (kept in step-5 while boiling dumplings) and 1/2 teaspoon salt, stir well and bring it to boil over medium flame.

When it starts to boil, reduce flame to low and add shallow fried gattes (prepared in step-1).

Cook until gravy becomes medium thick for approx. 5-7 minutes. Stir gently in between to prevent sticking. If required, add more water to make watery gravy and cook again for 3-4 minutes after adding the water.

Turn off flame. Transfer prepared Rajasthani gatte ka saag to a serving bowl and garnish with finely chopped coriander leaves.
Tips and Variations:
Add same amount of carom seeds instead of cumin seeds in step-1 while preparing dough for variation.
To know whether cylindrical rolls are cooked or not in step-5, insert toothpick or knife in it and if it comes out clean, then it is cooked else cook for another 2-3 minutes.
Serving Ideas:
Serve it with roti, paratha, phulka or any type of Indian flat bread in lunch or dinner. Serve it with steamed rice as a part of meal. You can also serve it with misi roti to have tasty Rajasthani food.