Cumin Cookies (jeera biscuits), these salted and mild sweet crispy cumin flavored cookies are the perfect snack to serve with tea in the afternoon. They are easy to make at home and contain less sugar compared to other sweet cookies. Follow the below given recipe with step by step photos to make them at home.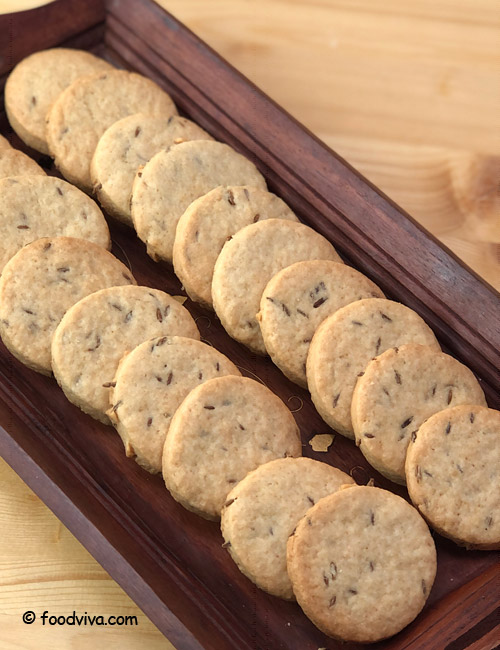 More Snacks Recipes
Preparation Time:
10 minutes
Ingredients:
1 tablespoon Cumin Seeds (jeera)
1 cup + 2 tablespoons Maida (all purpose flour/ plain flour)
1/4 teaspoon Baking Soda
1/4 teaspoon Salt
1/3 cup + 2 tablespoons Butter
1/4 cup Sugar
2-3 tablespoons Milk or as needed (add only if needed)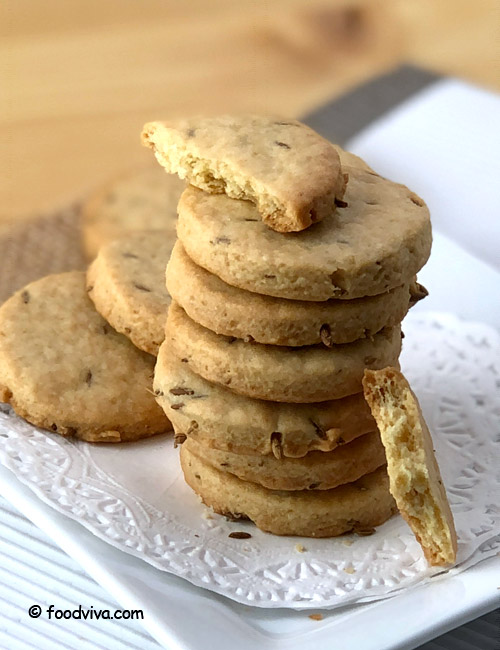 Directions:
Preheat the oven to 356F (180 C) for at least 10 minutes. Take 1 tablespoon cumin seeds in a small kadai/pan and roast it over medium flame until nice aroma releases around for a minute. Transfer to a small bowl and keep them aside until required.

Take a large bowl and sieve maida (all purpose flour/ plain flour)(1 cup + 2 tablespoons), 1/4 teaspoon baking soda, and 1/4 teaspoon salt together using a strainer.

Mix well with a spoon.

Take 1/3 cup + 2 tablespoons butter and 1/4 cup sugar in another large bowl.

Beat them using a wire whisk or hand mixer until smooth and creamy.

Add sieved flour and 1 tablespoon roasted cumin seeds.

Mix well using hands.

Add 2-3 tablespoons milk or as needed to gather the mixture.

Make the soft dough.

Cover the dough with cling film or parchment paper. Put it in the refrigerator for 30 minutes.

Remove the dough from the refrigerator. Roll the dough either by putting it between parchment paper or directly on the flat surface to 1/4 inch thickness. If required, sprinkle some dry flour on the surface before rolling the dough

Cut the cookies with a cookie cutter (or using a small round lid).

Keep the thickness 1/4 inch. Don't make the cookies very thick otherwise, they will take more time to bake.

Transfer them to the baking tray. Keep some space between them as they will increase in size after baking.

Bake at 356F (180 C) for 15-16 minutes or until the sides and bottom surface are golden.

Remove the baking tray from the oven. Transfer the cookies on a cooling rack and let them cool down. Cumin cookies are ready for serving. Store them in an airtight container, they stay good for 2-3 weeks at room temperature.
Tips and Variations:
You can put the dough in the refrigerator for up to 24 hours but then you need to thaw the dough before making cookies as it will turn hard after refrigerating).
If it's hard to roll the dough on a flat surface then sprinkle some dry flour before rolling the dough.
Don't roll out the dough very thick otherwise, it will take more time to bake.
If you don't want to add milk then add ½ cup butter.
Taste:
 Salty and Mild Sweet
Serving Ideas:
  Serve cumin cookies with tea in the afternoon or in the kids lunchbox.