Aval Upma is easy to prepare and delicious breakfast snack. It is also famous as Poha Upma in many regions of India and it's made from flattened rice (beaten rice) which has all goodness of rice. It is ideal food items for kid's lunch box and one of the most common breakfast recipes in India where rice is one of the main farm cultivation.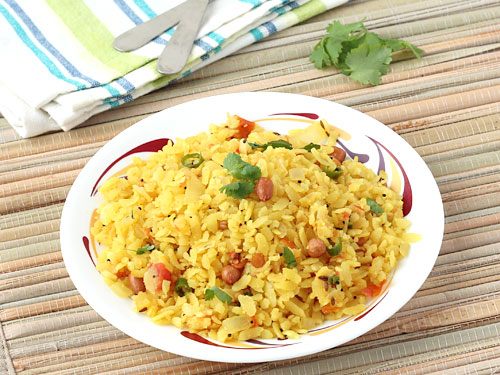 More Breakfast Recipes
Preparation Time:
5 minutes
Ingredients:
2 cups Aval (Poha/Flattened Rice/Rice Flakes)
2 tablespoons Peanuts
1/2 teaspoon Mustard Seeds
1/2 teaspoon Cumin Seeds
1 teaspoon Chana Dal (optional)
1 teaspoon Urad Dal (optional)
1 pinch Asafoetida
1-2 sprigs Curry Leaves
1 Onion, finely chopped
1/2 teaspoon grated Ginger
2 Green Chillies, finely chopped
1 Tomato, finely chopped
1/4 teaspoon Turmeric Powder
1 tablespoon finely chopped Coriander Leaves
2 tablespoons Cooking Oil
Salt
Water
Directions:
Wash aval (poha) in water for 2-3 times. Keep it in a food strainer for 10 minutes to drain excess water.

Heat 2 tablespoons oil in a kadai. Add peanuts and shallow fry them for 1-2 minutes over low flame. Drain them and transfer to a plate.

Add mustard seeds and cumin seeds in same oil. When seeds begin to sputter, add chana dal, urad dal, asafoetida and curry leaves. Cook until dals become light brown.

Add chopped onion, grated ginger and chopped green chillies. Sauté until onion becomes translucent.

Add chopped tomatoes, turmeric powder and salt and mix well. Cook until tomatoes become soft for 2-3 minutes.

Add previously soaked poha and mix well. Cook for 1 minute.

Add shallow-fried peanuts and mix well.

Turn off the flame. Delicious aval upma is ready.

Transfer it to serving bowl and garnish with coriander leaves. Serve it with coconut chutney or masala chai.
Tips and Variations:
You can add lemon juice and powder sugar for variation.
Add green chillies and ginger according to your taste to make it more or less spicy.
Sprinkle sev on upma to make it tastier.
You can also add boiled potato pieces in it to make it more filling.
Taste:
Salty and mild spicy
Serving Ideas:
Serve it with tea in the morning for breakfast.