Chocolate Chip Pancakes Recipe
Chocolate, the name itself makes juices flowing in the mouth. Homemade chocolate chip pancakes are even better; it makes you hungry in an instant! It can be easily made at home in minutes if you have all the ingredients handy. This easy recipe is for preparing it from scratch and requires cooktop or griddle to cook. Whether you are in in a hurry or at leisure, make it at home in just few minutes for healthy start of the day.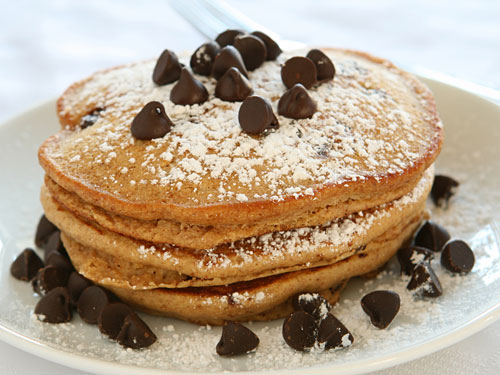 More Pancake Recipes
Preparation Time:
10 minutes
Ingredients:
1 cup All Purpose Flour
3 teaspoons Baking Powder
2 tablespoons Sugar
1/4 teaspoon Salt
3/4 cup Milk
1 large Egg
1/4 cup Chocolate Chips
2 tablespoons + for greasing, Melted Butter or Canola Oil
Powdered Sugar, for garnishing
Directions:
Combine all purpose flour, baking powder, sugar and salt in a bowl.
Whisk together milk, egg and melted butter in another bowl until smooth. Stir in mixed dry ingredients (mixed in previous step) and mix well. Prepared mixture will be bit lumpy and there is no need to mix until smooth. If you want to prepare thin pancakes, then mix 1-2 tablespoons more milk.
Add chocolate chips and mix gently.
Heat greased non-stick frying pan or griddle on medium heat. Pour 1/4 cup batter onto pan and spread it gently in round shape.
Reduce heat to low and cook. Flip it upside down when bubbles appear on top surface and edges turn golden brown. It will take around 2 minutes.
Cook another side until golden brown. It will take around one minute.
Transfer it to serving plate and form a stack. Sprinkle powdered sugar over it as a garnish. Serve hot with honey and whipped cream
Tips and Variations:
You can prepare 3-4 pancakes at a time according to size of pan or griddle.
If you do not like to mix chocolate chips in batter, then you can arrange them on top surface in step-4 after pouring batter onto pan or griddle.
Serving Ideas:
Enjoy it as delicious and healthy breakfast.