Blueberry Pancakes Recipe
The fun to eat healthy pancakes is even healthier when made with blueberries. The blueberry pancakes are either made by stirring blue berries in batter or by sprinkling them over the batter on griddle. This recipe uses the second technique to make soft, fluffy and warm pancakes for healthy breakfast.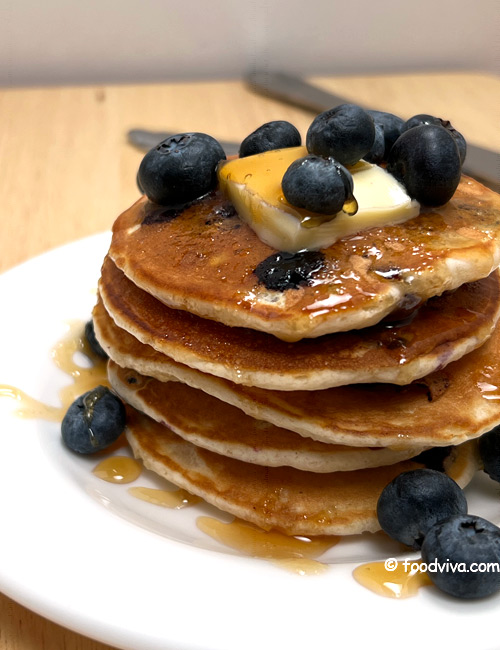 More Pancake Recipes
Preparation Time:
10 minutes
Ingredients:
1/2 cup fresh or frozen Blueberries
1 1/4 cup All Purpose Flour
2 teaspoons Baking Powder
1 tablespoon Sugar
1/4 teaspoon Salt
1 cup Milk
1½ tablespoons Butter, melted
Butter or Oil for greasing
Directions:
Sieve all purpose flour in a medium size bowl. Add and mix baking powder, salt and sugar.
Take milk and melted butter in a separate bowl and whisk together until mixed.
Add flour mixture prepared in step-1 in milk-butter mixture prepared in step-2 and whisk together just until blended.
Heat non-stick frying pan or griddle over medium heat and place 1 teaspoon butter over pan.
When butter starts to bubble, pan is hot enough to make a pancake. Pour 1/4 cup batter over it and put few blueberries on top of it.
Cook on medium heat until tiny bubbles appear on top and bottom surface turns light brown. It would take around 2 minutes. Check bottom surface with spatula to see if it has turned light brown or not. If it has, then turn it upside down and cook until another side also turns light brown. Note that cooking second side takes only about half the time as the first side.
Transfer it to serving plate and follow same process for rest of the batter.
Serve warm blueberry pancakes drenched in a blueberry or maple syrup.
Tips and Variations:
If batter seems too thick to pour, add a little more milk.
If you like darker pancakes, then keep it on a griddle for few more seconds until it is dark golden brown.
If you are not much concerned about the color of prepared pancakes, then stir-in blueberries in batter rather than spraying them on it.
Taste:
Mild sweet and fruity berry flavor
Serving Ideas:
It is traditionally served and eaten as a healthy breakfast. The infusion of blueberry in pancake's preparation adds a lot of flavor and nutrition's to it making it more enjoyable and tastier. Serve stacked pancakes covered in blueberry syrup for heavenly experience. However it also tastes equally good with maple syrup. It is heavenly delicious and visually tempting when served with sliced banana and honey.