Buttermilk Pancakes Recipe
Buttermilk pancakes are highly fluffy, soft and has a complex flavor which comes out well when served with fruit syrup or maple syrup. The melt in the mouth pancakes prepared with this traditional recipe tastes much better than the one prepared with ready mixes available in stores. Try this recipe and make soft and fluffy pancake once and you will never go back to ready-made ones, guaranteed!!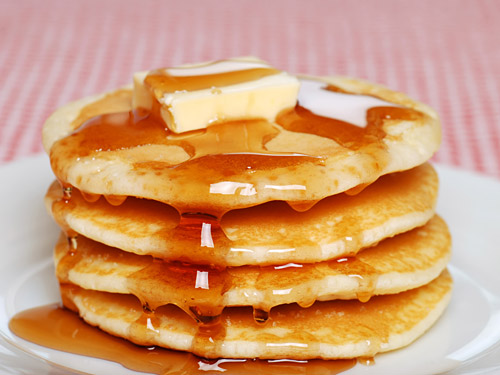 More Pancake Recipes
Preparation Time:
 10 minutes
Ingredients:
1¼ cup Buttermilk
1 cup Plain Flour
1/2 teaspoon Baking Soda
1 teaspoon Baking Powder
1½ tablespoons Sugar
2½ tablespoons Butter, melted
1/4 teaspoon Salt
1 large Egg, lightly beaten
1 teaspoon Vanilla Extract, optional
Directions:
Beat together egg and butter in a bowl. Add buttermilk and mix well.
Take another large bowl and combine plain flour, baking powder, baking soda, sugar and salt in it.
Pour wet mixture (prepared in step-1) into dry mixture (prepared in step-2) and stir gently using wooden spoon until just mixed. Make sure that all flour is mixed properly with mixture.
Heat non-stick frying pan or griddle over medium-low heat.
Pour 1/4 cup batter over heated frying pan using spoon or measuring cup. Spread batter a bit around if it is too thick.
When tiny bubbles appear on surface (approx 60-90 seconds), check if bottom of pancake has become brown or not with the help of spatula and flip it. Cook until light brown over another side.
Remove it from frying pan and transfer to a plate.
Repeat steps 5 to 7 for remaining batter.
Warm and healthy buttermilk pancakes are ready to be enjoyed with maple syrup.
Tips and Variations:
Do not mix buttermilk mix (prepared in step-1) and flour mix (prepared in step-2) until you are ready to cook pancakes. i.e. do not keep batter ready and keep it idle. You should prepare batter when you are about to start cooking.
Do not over stir mixture (in step-3) because over stirring will result in hard and non-spongy pancakes.
Heated pan should not be too hot or just warm when ready to pour batter on it. You should hear a slight sizzle sound when you pour batter. If it sizzles loud, or starts to burst big bubbles as you pour, the heat is way too high, reduce it and try after few minutes of cooling down.
Do not make very thin batter. If batter is very thin, then add plain flour and mix well.
Add cilantro, corn, grated carrot or green peas in batter in step-3 for variation. You can also add chopped strawberries or blueberries if you are making it for kids.
Use whole-wheat flour instead of plain flour to make it healthier.
Add lemon zest in batter to have a nice lemon flavor.
Taste:
Semi sweet or mild sweet taste with soft and fluffy texture and a nice flavorful aroma of vanilla extract
Serving Ideas:
 Stack up pancakes and pour honey or any other fruit syrup of your choice or traditional maple syrup. Top it up with salted butter and blueberries or strawberry pieces for yummy and healthy variation for breakfast. This stomach filling buttermilk pancakes can be prepared in minutes at any time to satisfy your hunger with something tasty and delicious.