Sweet Potato Pancakes Recipe
Sweet potatoes can make amazing pancakes which are moist and flavorful. This healthy sweet potato pancakes recipe uses the mashed sweet potatoes, beaten eggs, all purpose flour, wheat flour, milk and baking powder as main ingredients. The addition of ground nutmeg, ground cinnamon and vanilla extract adds zesty flavor to it.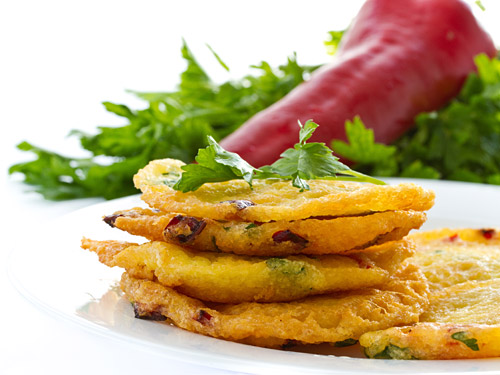 More Pancake Recipes
Preparation Time:
10 minutes
Ingredients:
1½ cups boiled, peeled and mashed Sweet Potato
1 cup All Purpose Flour
1/2 cup Whole Wheat Flour
1 tablespoon Baking Powder
1/2 teaspoon Ground Cinnamon
1/4 teaspoon Ground Nutmeg
2 medium size Eggs, beaten
1/2 teaspoon Vanilla Extract
1 tablespoon Sugar
1½ cups Milk
4 tablespoons + for greasing, Unsalted Butter, melted at room temperature
Salt
Directions:
In a large mixing bowl, mix wheat flour, all-purpose-flour, sugar, baking powder, ground cinnamon, ground nutmeg and salt and keep it aside until needed.
Add 2 tablespoons butter in mashed sweet potatoes and mash until smooth. Add eggs and vanilla extract and mix. Add milk and again mix well.
Mix sweet potato mixture and dry ingredients together until just combined into dough like mixture.
Preheat skillet and grease with butter. Place around 2 tablespoons dough onto hot greased skillet and spread a little. Cook on medium high heat until bottom side of pancake turns golden brown. Flip it with a spatula and cook another side until brown.
Transfer it to serving plate and prepare pancakes from remaining dough.
Tips and Variations:
Add 1/2 teaspoon grated ginger for spicy aromatic variation.
To peel and mash sweet potatoes easily, boil them in water in a medium saucepan, cook until tender but firm, drain and immediately immerse in cold water and take them out after 2-3 minutes. This boil and cold process will loosen its skin, making easy to peel off.
Serving Ideas:
Serve it warm with maple syrup or honey. Warm pancakes make a huge difference, if they have become cold while you were preparing remaining ones, reheat them in microwave before serving.