The lighter texture and taste of ricotta cheese makes it worthy of preparing delicious pancakes from it. This easy ricotta pancake recipe uses white ricotta cheese and separated eggs along with other pancake ingredients. The beaten egg white helps them become soft and fluffy.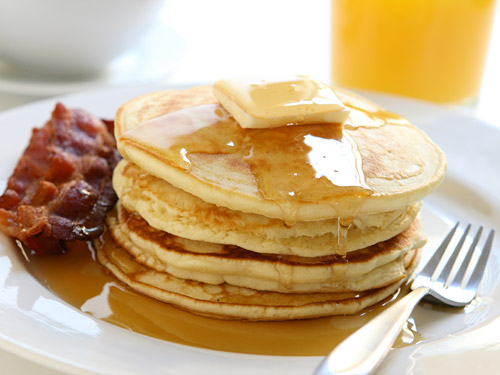 More Pancake Recipes
Preparation Time:
5 minutes
Ingredients:
1¼ cup Ricotta Cheese
1 cup All Purpose Flour
1 teaspoon Baking Powder
2 large Eggs, separated
3/4 cup Milk
1/2 teaspoon Vanilla Extract
1 tablespoon Sugar
1/4 teaspoon Salt
1 tablespoon + for greasing, melted Butter
Maple Syrup or Honey
Directions:
If ricotta is too watery or seems wet, then place it in a fine mesh strainer and set over a small bowl for 15-20 minutes to drain off excess liquid. If it is not watery, then skip this step.
Mix together all-purpose-flour, baking powder, sugar and salt in a small bowl.
Whisk together egg yolks, butter, milk and vanilla in another bowl. Add ricotta and whisk until smooth.
Add dry ingredients mixture (prepared in step-2) to the milk and ricotta mixture (prepared in step-3) and stir gently until just combined. Do not over mix the batter.
Beat egg whites using electric beater until stiff peaks form.
Fold beaten egg white in the prepared ricotta batter.
Heat greased skillet or griddle on medium high heat. Pour 1/4 cup batter onto hot skillet. Cook for around 2-3 minutes until golden brown on bottom side (peek using spatula to check the color before flipping). Flip it and cook another side for around 1-2 minutes until golden brown.
Transfer it to serving dish. Prepare pancakes in batches from remaining batter.
Pour maple syrup or honey over it and serve with a butter and lemon curd.
Tips and Variations:
Make sure that egg whites are beaten in grease free bowl.
Add frozen blueberries in the batter for variation.
Use low fat or high fat ricotta cheese as per availability.
Taste:
Mild sweet, soft and fluffy
Serving Ideas:
It can be served with fresh fruits and maple syrup for healthy and rich breakfast. Serve it with fresh fruits like strawberries, blueberries or blackberries.