Whole Wheat Pancakes Recipe
Shower your taste buds with goodness of fluffy and healthy homemade whole wheat pancakes. The use of whole wheat instead of all purpose flour makes it delectable and healthier. This simple and easy recipe is flexible and makes pancakes from scratch.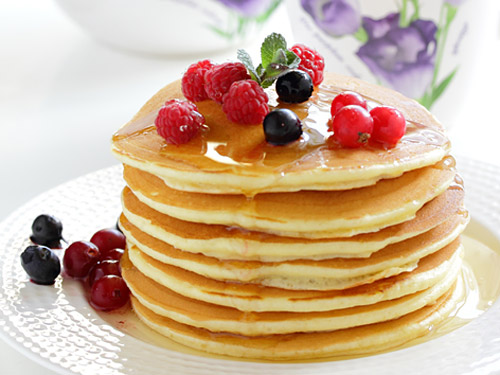 More Pancake Recipes
Preparation Time:
10 minutes
Ingredients:
1 cup Whole Wheat Flour
1 1/4 cups Buttermilk
2 teaspoons Baking Powder
1/2 teaspoon Ground Cinnamon
1/2 teaspoon Vanilla Extract
1 medium Egg, beaten
1 tablespoon Sugar
1/4 teaspoon Salt (or to taste)
2 tablespoons Cooking Oil
1 cube of Butter
Directions:
Mix whole wheat flour, baking powder, ground cinnamon, sugar and salt in a bowl.
In another bowl whisk together buttermilk, vanilla extract, beaten egg and oil until smooth.
Add dry ingredients mixture into the buttermilk mixture and mix until just combined and there is no dry flour. Do not over mix it. Prepared batter will be slightly lumpy.
Grease skillet using cooking spray (or oil) and preheat on medium heat until medium hot.
Pour 1/4 cup batter and cook pancake on medium low heat and flip it with spatula when bubbles start to appear on the surface and edges turn golden brown. Cook another side until golden brown.
Transfer it to serving plate. Prepare pancakes from remaining batter.
Serve whole wheat flour pancakes with a garnish of butter or with topping of fresh berries and maple syrup.
Tips and Variations:
Either stir in whole blueberries in batter (step-4) or place them on top when pancake starts to bubbles for variation.
You can also serve it with maple syrup and other fresh fruits of season to make a healthy and fruity breakfast or brunch.
Replace sugar with honey for variation.
Taste:
Mild sweet and soft with vanilla flavor
Serving Ideas:
Enjoy it as a wholesome breakfast.