This eggless banana bread recipe is so easy as it doesn't require any specific process, just mix all the ingredients (mashed banana, sugar, oil, flour, baking soda, walnuts, etc.) in one bowl and then put it in the oven and bake. No mess and easy cleaning. This egg free recipe is also vegan as the oil is used instead of butter. You can also adjust the amount of sugar and bananas and also add the nuts of your choice like walnuts, pecans, almonds. If you like mild sweet bread then add only 1/2 cup sugar and if you like sweet bread like cake then add 3/4 cup sugar.  Follow the below given recipe with step by step photos and don't forget to read the tips before making this delicious banana bread.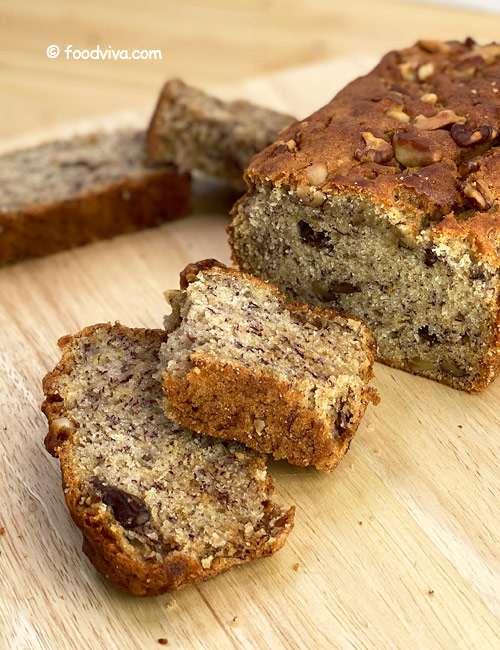 Eggless Banana Bread Video
More Baking Recipes
Preparation Time:
10 minutes
Ingredients:
2 large Bananas (or 3 medium banana) 400 gms with peels (approx. (1 cup + 2-3 tablespoons) puree, 300 gms without peels)
1/2 cup Sugar (or 3/4 cup for more sweet)
1/2 cup Oil (use any flavorless oil)
1 teaspoon White Vinegar or Apple Cider Vinegar (or Lemon Juice)
1 teaspoon Vanilla Extract (or 1/2 teaspoon vanilla essence)
1½ cups Maida (all purpose flour)
A pinch of Salt
1/2 teaspoon Baking Soda
1 teaspoon Baking Powder
1/4 teaspoon Cardamom Powder or Cinnamon Powder, optional
1/2 cup + 1/4 cup chopped Walnuts or Pecans, optional
Note:
Over ripe bananas are best for this recipe. Choose the bananas which have half of the yellow peel is brown or have multiple black dots.
In this recipe, two large bananas are used (almost 400 gms weight with peels, 300 gms weight without peels). The mashed banana puree is almost 1 cup + 2-3 tablespoons. You can use about 1 to 1¼ cup banana puree.
You can add 1/2 cup to 3/4 cup sugar as per your preference.
Choose the oil which is flavorless like safflower oil, sun flower oil, etc.
You can also use 3/4 cup whole wheat flour and 3/4 cup all purpose flour.
We have used  8×4-inch pan in this recipe. You can also use 9×5-inch pan.
Directions:
Grease one 8×4-inch loaf pan with butter and then sprinkle some raw flour over it. Tilt the pan to coat all the sides evenly with flour. Line the pan with parchment paper or wax paper as shown in the picture.

Take 1/2 cup chopped walnuts (or pecans) in a bowl and sprinkle 1-2 teaspoons raw flour over it. Now toss the nuts gently until they are evenly coated with the flour. This process prevents the nuts from sinking while baking.

Peel 2 large or 3 medium bananas and slice them or chop them and transfer them in a large bowl.

Mash them with a fork or a potato masher or a mixer until puree.

Add 1/2 cup sugar and mix well.

Add 1 teaspoon lemon juice or white vinegar or apple cider vinegar.

Add 1 teaspoon vanilla extract (or ½ teaspoon vanilla essence).

Add 1/2 cup oil (use any flavorless oil).

Mix well.

Keep a large sieve or a strainer over the bowl. Add 1½ cups maida (all purpose flour) over it. Add a pinch of salt, 1 teaspoon baking powder and 1/2 teaspoon baking soda over it. Mix them with a spoon and then sieve them together.

Add 1/4 teaspoon cardamom powder (or cinnamon powder).

Now, fold with a spatula to mix all the ingredients. Just mix until no raw flour. Do not over mix the batter.

Add 1/2 cup walnuts and mix gently.

Batter should have lumpy consistency as shown in the picture. If the batter looks too dry, add 2-3 tablespoons water or milk and mix.

Pour the batter into the greased pan. Gently tap the pan to remove any air. Sprinkle 1/4 cup chopped walnuts over it and gently press with a spatula. Bake it at 350 F (176 C) in a preheated oven for 50 minutes or until the toothpick or a skewer inserted comes out clean. Keep an eye on the cake after 40 minutes of baking as each oven works differently. If the bread looks brown from outside but raw from inside then cover the top surface of the bread with aluminum foil and then bake again to prevent it from turning more brown.

Remove the bread from the oven and let it cool for 5-10 minutes in the pan. Then remove the bread from the pan and let it cool completely before serving or slicing.

Cut it into thick slices it and serve. Moist banana bread is ready for serving.
Tips and Variations:
Banana Bread turned dry – If the batter is too thick, add 3-4 tablespoons water or milk or any dairy free milk (for vegan bread) and mix.
Bread is too dense – Don't over mix the batter to prevent it from turning dense. Just mix the batter by folding it with a spatula until no raw flour. And also don't forget to check the shelf life of baking soda and baking powder.
Crack on the banana bread – Don't worry if the crack appears on the bread made with this recipe.
Walnut (or any dryfruits) sank at the bottom – Mix the nuts with 1-2 teaspoons raw flour until they are coated well which prevents them from sinking while baking.
Keep an eye on the bread after the 40 minutes of baking as the baking time varies depending on the thickness of batter and size and thickness of the baking pan.
Garnish it with sliced dry fruits like almonds or pistachios for variation.
Variations – You can use the same batter to make the banana muffins or banana cupcakes or banana cake however the baking time will reduce depending on the thickness (20-30 minutes).
Serving Ideas:
  Serve banana bread in the breakfast or enjoy it whenever you like.