Cashewnut Cookies (Kaju Biscuit) Recipe
Are you looking for an eggless cookies recipe for kids? These crispy eggless cashewnut cookies are simple to make and only require a few ingredients. They stay good for 15-20 days at room temperature. As they are healthy and also can be prepared in advance, they are a great option for birthday parties, get togethers, kids lunchbox, and also for the after-school snack. Follow the below given recipe with step by step photos to make them at home.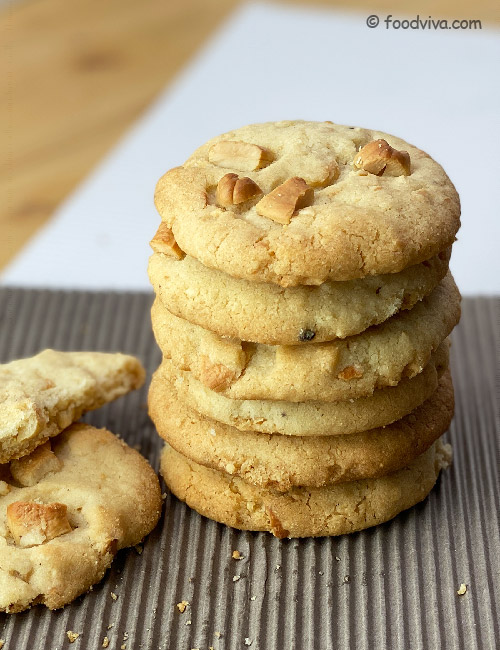 More Snacks Recipes
Preparation Time:
15 minutes
Ingredients:
1 cup Maida (plain flour/all purpose flour)
1/8 teaspoon Baking Soda
1/2 cup Butter (softened at room temperature)
1/3 cup Sugar (powdered)
3/4 cup Cashew nuts Powder (roughly crushed)
1/4 cup + 1/4 cup chopped Cashew Nuts, optional
1/4 teaspoon Cardamom Powder (or 1/2 teaspoon Vanilla Essence/Extract)
Directions:
Take a large bowl and keep a sieve over it. Add 1 cup maida (plain flour/all purpose flour) and a pinch of baking soda (1/8 teaspoon).

Sift them together.

Mix them using a spoon properly.

Take 1/2 cup softened butter in another bowl.

Add 1/3 cup powdered sugar.

Mix well. Beat them using a hand bitter or a fork until smooth and creamy.

Add previously sifted flour (from step-2) and mix lightly.

Add 3/4 cup cashew nuts powder (roughly crushed) and 1/4 teaspoon of cardamom powder or 1/2 teaspoon of vanilla essence/extract.

Mix well and make a dough. Add 1/4 cup chopped cashewnuts (this step is optional).

Mix well.

Preheat the oven to 350 degree Fahrenheit (180 degree Celsius). Divide it into 18-20 equal portions. Take each portion one by one and give it a round shape like ball and then press it gently between your palms to flatten it.

Transfer them to a baking tray. Sprinkle a few chopped cahsewnuts over each cookie and press them lightly. Keep some space between cookies as shown in the picture as they will increase in size after baking.

Bake the cookies in preheated oven at 350 degree Fahrenheit (180 degree Celsius) for 15-18 minutes or until the bottom surface turns light golden. If you like chewy cookies then bake them only for 12-14 minutes.

Remove the tray from the oven. Transfer cookies on a cooling rack and let them cool to room temperature. Once cools down, store them in an airtight container.
Tips and Variations:
Baking Time – It varies by few minutes because of the different sizes of ovens and different settings. Keep an eye on cookies after 15 minutes to prevent them from burning.
Variation – Use half amount of pistachio and half amount of cashew nuts in place of using all the cashew nuts.
Serving Ideas:
  Serve cashewnut cookies with other savory snacks like farsi puri, poha chivda and sev.