It is a one of most widely preferred and delicious Indian breakfast and fasting food for festivals like Navratri and Shivratri. Sago khichdi can be prepared using two types of sabudana (sago), large and small. This easy recipe uses small sized pearl sabudana as it reduces the preparation time as well as gives even taste in every spoonful. Don't forget to read tips given below to make perfect non-sticky sabudana khichdi.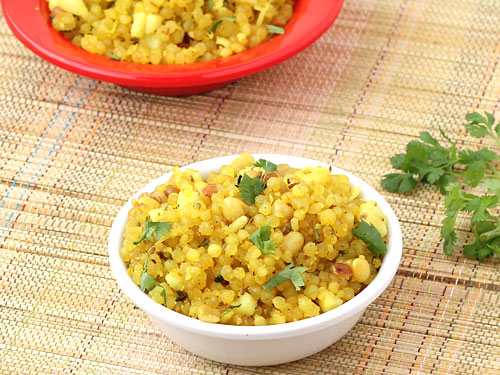 Sabudana Khichdi for Vrat/ Upvas Video
More Snacks Recipes
Preparation Time:
10 minutes (+ 4 hours to soak and stand sago)
Ingredients:
3/4 cup small pearl Sabudana (tapioca)
1/2 teaspoon Cumin Seeds
2 Green Chillies, seeded and finely chopped
5-7 Curry Leaves
1/4 teaspoon Garam Masala Powder
2 medium Potatoes, boiled, peeled and chopped
1/3 cup Roasted Peanuts, coarsely crushed
3 tablespoons grated dry Coconut
1/4 teaspoon Turmeric Powder
2 teaspoons Fresh Lemon Juice
2 teaspoons Sugar
Salt
2 tablespoons Cooking Oil
2 tablespoons finely chopped Fresh Coriander Leaves
1/2 cup Water
Directions:
Wash and soak 3/4 cup sabudana in 1/2 cup water for 2 hours.

After 2 hours, you will notice that its size has increased to almost double.

Drain excess water, if any, and transfer it to a colander or a plate. Let it stand for 2 hours. If you do not let it stand for some time, then they may turn sticky while cooking.

Heat oil or ghee over medium flame in a heavy based aluminum or non-stick pan (kadai). (Use of non-stick pan is recommended, as it will help prevent sticking while cooking). Add cumin seeds in heated oil. When seeds begin to crackle, add green chilli and curry leaves and sauté for 10 seconds.

Add drained sabudana and mix thoroughly. Cook for 2-3 minutes while stirring continuously.

Add turmeric powder and salt, mix well.

Cook for 7-8 minutes over medium flame until sabudana turns translucent. Stir constantly. (Do not worry if sabudana turns light orange after cooking.)

Add boiled potatoes, coarsely crushed peanuts, grated coconut, lemon juice, sugar and garam masala powder.

Mix well and cook for 3 minutes, stirring constantly.

Turn off the flame. Transfer khichdi to a serving bowl and garnish with coriander leaves.
Tips and Variations:
If you soak sabudana in excess water, then it will turn mushy and sticky.
If it is too dry while cooking (in step-7), then sprinkle 1 tablespoon water at a time over it and mix well. Sprinkle as much water as required until it is cooked and turns transparent. Do not add too much water in single go otherwise it will turn sticky.
If you are using large sized sago, then soak them overnight in water. 2 hours of soaking is not sufficient for it.
Taste:
Soft and mild spicy
Serving Ideas:
Sabudana ki khichdi is traditional fasting food served during fasting days (vrat days) like Navratri and many other Indian mythological festivals. It can also be served as an afternoon snack, morning breakfast or a side dish in lunch and dinner. Kids would love to take it in a lunch box.