Simple rice khichdi is a healthy comfort food prepared by pressure cooking rice and moong dal. If you want to eat something light and healthy for dinner, then easy to digest rice khichdi is the best option. In fact, easy to chew plain khichri prepared with rice and ghee is so delicious and healthy that it's a recommended food for babies and aged people and often served with aloo curry and buttermilk.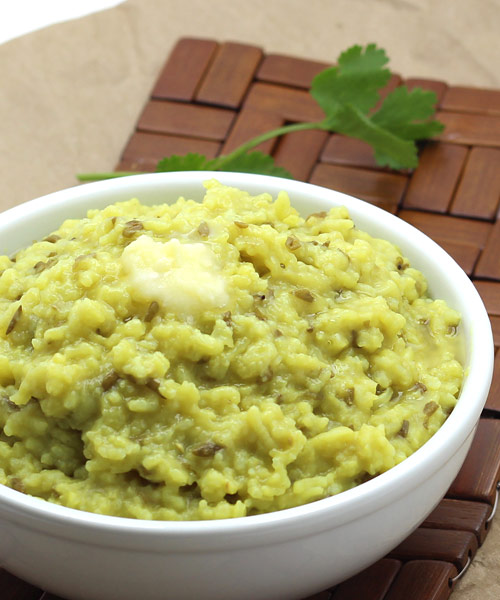 More Rice Recipes
Preparation Time:
5 minutes
Ingredients:
2/3 cup Rice (short grained)
1/3 cup Moong Dal (split green gram with skin)
3½ cups Water
1/8 teaspoon Turmeric Powder
1 teaspoon Oil, optional
2 tablespoons Ghee
Salt to taste
Khichdi For Babies:
If you are preparing khichdi for babies, then add little more water to make it extra soft. Alternatively, mix some plain curd with it before feeding it to baby.
Directions:
Take 2/3 cup rice and 1/3 cup moong dal in a bowl.

Wash them in water for 3-4 times.

Drain and transfer them to pressure cooker (3-5 liter capacity). Add turmeric powder, 1-teaspoon of oil, 3½-cups water and salt. Mix well and taste the water for salt; add more if required. If you like very soft khichdi (like thick gravy), add 4 cups water.

Close the lid of pressure cooker and cook for 4 whistles (1st whistle on high flame and remaining 3 whistles on medium flame).

Turn off the flame and let the steam pressure comes down naturally. It will take around 8-10 minutes. If you do not wait and open the lid immediately, khichdi may remain uncooked. Carefully open the lid, add ghee and mix well. Moong Dal Khichdi is ready, serve it with

gujarati kadhi

and papad.
Tips and Variations:
If you want to make khichdi in larger quantity, follow the given ratio. For 1 cup rice, add 1/2 cup dal (half amount) and 3½ times water (5½ cups) for dal-rice mixture.
If you like very soft khichdi (like thick gravy), add 4 cups water instead of 3½-cups water.
Add 2 tablespoons toor dal (pigeon pea lentil) in step-1 for variation.
Add the tempering of cumin seeds, curry leaves, chopped garlic over prepared hot khichdi for variation.
Taste:
Soft and salty with nice aroma of ghee
Serving Ideas:
Serve plain and simple khichdi with
aloo curry
, papad and spiced buttermilk as a light and healthy dinner. It is a perfect food for babies and kids too.