Its name itself gets juices flowing in the mouth. Dry, shallow fried, spicy masala filled bhindi is a heavenly experience in every bite and it's a choice food during special occasions and festivals like Diwali and Navratri. The rich and delicious stuffed bhindi can be made easily at home by planning its preparation in advance, prepare and store stuffing masala for bhindi and then using it as and when required.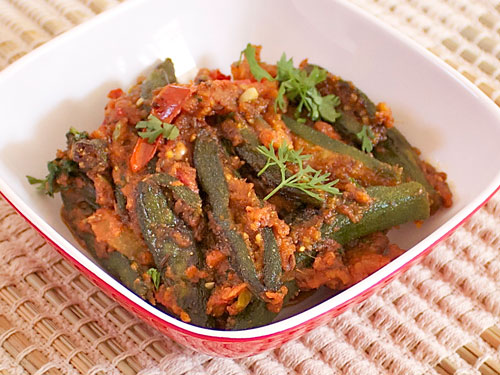 Preparation Time:
15 minutes
Ingredients:
250 gms (approx. 1/2 lb) Bhindi (Ladies Finger/Okra)
1 medium Tomato, cut into halves and sliced length wise
1 Green Chilli, deseeded and finely chopped
2 teaspoons crushed Ginger-Garlic
1/2 teaspoon Cumin Seeds
2 tablespoons + 1 tablespoon Oil
2 tablespoons finely chopped Coriander Leaves
Salt
For Stuffing:
3 tablespoons Gram Flour (Besan), roasted
1 tablespoon grated Dry Coconut
2 tablespoons Groundnuts
1 tablespoon Coriander Powder
1/4 teaspoon Turmeric Powder
1 teaspoon Red Chilli Powder
1/4 teaspoon Garam Masala Powder
1 teaspoon Dry Mango Powder or Lemon Juice
Salt
1 tablespoon Oil
Directions for Stuffing:
Roast groundnuts in a kadai (pan) for 3-4 minutes over medium flame while stirring continuously. Turn off flame and let them cool for 2-3 minutes. Crush them coarsely in the jar of a mixer grinder and transfer to a medium bowl.
Dry roast gram flour in a kadai (pan) until light brown and nice aroma starts to come (approx. 4 to 5 minutes over low flame), stirring continuously. Transfer it to the same bowl having groundnuts in it.

Add dry coconut, crushed groundnut, coriander powder, turmeric powder, red chilli powder, garam masala powder, dry mango powder, 1 tablespoon oil and salt in the same bowl. Mix all ingredients well. Stuffing for bhindi is ready. Keep it aside until needed in later steps.
Directions for Preparing Stuffed Bhindi:
Cut top and tail of all bhindis and slit them lengthwise (longer side). Do not cut it into two long halves. Take each bhindi and stuff it with approx. 1/2 to 1 teaspoon prepared stuffing.

Heat 2 tablespoons oil in a heavy based or non-stick pan over medium flame.
Add masala filled bhindi and sprinkle salt over it. Stir gently and cook for a minute.
Reduce flame to low, cover and cook for 5 minutes. Turn it 2-3 times in between.
After 5 minutes, open the lid and cook over medium flame until bhindi turns dark green, approx. 1-2 minutes.
Turn off flame and transfer bhindi to a plate.
Heat 1 tablespoon oil in the same pan over medium flame.
Add cumin seeds. When they begin to sizzle, add crushed ginger-garlic and green chillies; sauté for approx. 30 seconds.
Add tomatoes and salt. Mix well and cook for 1-2 minutes.
Add shallow fried stuffed bhindi and mix well. Cook for a minute and turn off flame.
Transfer prepared curry to a serving bowl.
Garnish with coriander leaves and serve hot.
Tips and Variations:
Choose small and tender okras for fast cooking and better taste. Do not choose those with hard seeds.
If possible, wash and dry okra 2-3 hours prior to cooking.
Never add water while cooking bhindi otherwise curry will turn sticky.
Use wide bottomed non-stick pan (kadai) to make it crispy and cook faster.
Add 2 teaspoon powdered sugar while preparing stuffing for balanced sweet, sour and salty taste.
You can prepare stuffing in advance and store it in airtight container in refrigerator and use it for up to 7 days.
Serving Ideas:
Stuffed masala bhindi can be served as main dish with paratha, roti, chapati and curd raita for delicious and filling lunch or dinner. This is an ideal Indian dish for parties as its rich in taste as well as suitable to everyone's palate.