Alu Mutter with Coconut Gravy Recipe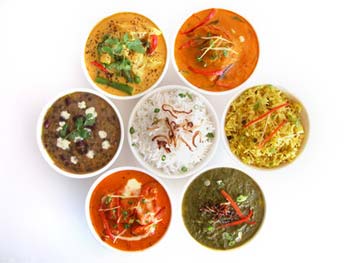 This is a simple and widely known alu mutter curry with a gravy made of fresh coconut, cashew nuts and tomato puree. The fresh coconut adds a nice taste and texture to it. Try this alu mutter with coconut gravy recipe today and your taste buds won't stop thanking you.
More Curry Recipes
Preparation Time:
10 minutes
Ingredients:
1/2 cup Green Peas (mutter), boiled
2 medium Potatoes, boiled
3 tablespoons Fresh Coconut, roughly chopped or grated
1 tablespoon Cashew Nuts or Poppy Seeds, soaked in water for 15 minutes
1 Tomato
1/2 tablespoon Ginger Garlic Paste
1 small Onion, chopped
1 medium Tomato, chopped
1 teaspoon Coriander Powder (dhania powder)
1/2 teaspoon Cumin Powder (jeera powder)
1/2 teaspoon Red Chilli Powder (lal mirch)
1/4 teaspoon Turmeric Powder (haldi)
1 tablespoon Fresh Coriander Leaves, chopped
2 tablespoons Cooking Oil
Salt
Water
Directions:
Grind tomato into smooth puree.
Grind cashew nuts and coconut with 2 tablespoons water and make a paste.
Peel and cut potatoes into medium size cubes.
Heat oil in a non-stick kadai or small pan. Sauté ginger garlic paste in it over low flame until it turns light brown.
Add chopped onion and sauté until it becomes translucent.
Add tomato puree (prepared in step 1) and sauté until oil starts to separate from it.
Add coconut-cashew nut paste (prepared in step 2) and sauté over low heat for 3-4 minutes.
Add turmeric powder, red chilli powder, cumin powder and coriander powder, stir and mix well.
Add 1/2 cup water and bring it boil. Add potatoes, peas and salt to taste, stir them thoroughly.
Cook covered on low heat until gravy becomes thick. It will take approx 3 minutes.
Transfer alu mutter curry to a serving bowl and garnish with fresh coriander leaves.
Tips and Variations:
Use 1/2 cup coconut milk as a substitute of fresh coconut.
Serving Ideas:
Alu mutter with coconut gravy enhances the palatability of meal when served with steamed rice, peas pulav or tandoori rotis.