Shallow fried bhindi cooked in roasted besan and curry spices makes a mouth watering bhindi fry (okra fry). This simple, everyday curry of bhindi has dry and crispy texture and it is very easy to make and suitable to serve as main curry dish for lunch or dinner.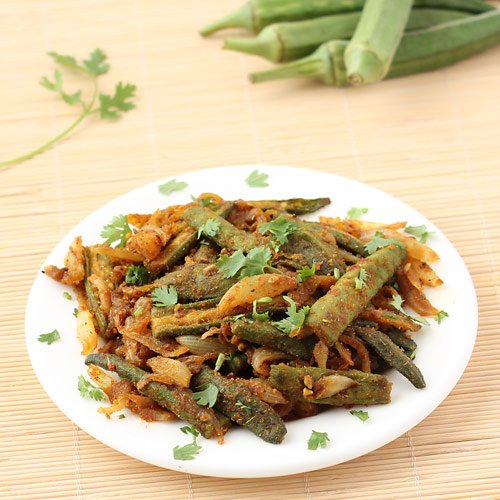 More North Indian Recipes
Preparation Time:
10 minutes
Ingredients:
250 gms (1/2 lb) Bhindi (Ladies Finger/Okra)
2 medium Onions, sliced
2 tablespoons Gram Flour (Besan), roasted
2 teaspoons Cumin-Coriander Powder
1/4 teaspoon Turmeric Powder
1/2 teaspoon Red Chilli Powder (optional)
1/4 teaspoon Garam Masala Powder
1/2 teaspoon Cumin Seeds
A small pinch of Asafoetida
1/2 teaspoon Dry Mango Powder
2 tablespoons finely chopped Coriander Leaves
1½ tablespoons + 2 teaspoons Oil
Salt to taste
Directions:
Cut head and tail of bhindi and slit it lengthwise into halves. Heat 1½ tablespoons oil in a pan or kadai over medium flame. When oil is medium hot, add bhindi.

Shallow fry it until it turns dark green and shrinks in size for around 7-8 minutes. Stir in between occasionally to fry evenly and prevent sticking.

Add turmeric powder and salt.

Mix well and cook for a minute. Turn off flame and transfer it to a plate.

Heat 2 teaspoons oil in the same pan. Add cumin seeds; when seeds begin to crackle, add asafoetida and sauté for few seconds. Add sliced onion and sauté until it turns light brown or for approx. 1-2 minutes

Add shallow fried bhindi, mix well and cook for 2 minutes. Add roasted gram flour and dry mango powder.

Stir and cook for a minute. Add red chilli powder, garam masala powder and cumin-coriander powder.

Stir and cook until bhindi is evenly coated with all ingredients for around 1-2 minutes.

Turn off the flame and transfer prepared bhindi curry to a serving bowl. Garnish with coriander leaves and/or onion rings, serve hot.
Tips and Variations:
If possible, wash and dry bhindi 2-3 hours prior to cooking.
If you are using frozen okras, thaw them and wipe using cloth or paper napkin to remove the excess moisture.
Never add water while cooking bhindi otherwise it will turn sticky.
Do not cover the bhindi while cooking otherwise it will become soggy and sticky.
Use non-stick pan or heavy based pan to make this sabzi. It will prevent gram flour from sticking while cooking.
Taste:
It has mild spicy taste with crispy texture of roasted gram flour.
Serving Ideas:
Serve it with roti or chapatti and curd. It's an easy to make everyday Indian curry that can be served in lunch or dinner and also goes well with steamed rice.