Vegetable Korma is a popular Indian curry in which boiled vegetables are cooked in a creamy and aromatic gravy of yogurt, coconut and cashew nuts based paste and sautéed onion and tomato. This curry is prepared in two different styles. In north Indian style, this curry is prepared by adding yogurt (curd) or cream while in south Indian style, coconut is added to make gravy. However, we have used both curd and coconut to make this curry.
This step by step photo recipe of Vegetable Korma curry has four preparation stages – in first stage, creamy paste of coconut, cashew nut and poppy seeds is prepared. In second stage, chopped onion and tomato are sautéed in oil, Indian spices and ginger-garlic paste and then cooked with paste prepared in first stage. In third stage, yogurt is added and gravy is cooked for few minutes. And in last and fourth stage, boiled French beans, green peas, carrot, potato, cauliflower are cooked in the gravy. Though this restaurant style Vegetable Kurma Curry Recipe may seem long on the glance, it really is a very easy to follow, doesn't require any exotic ingredients or advanced cooking skills.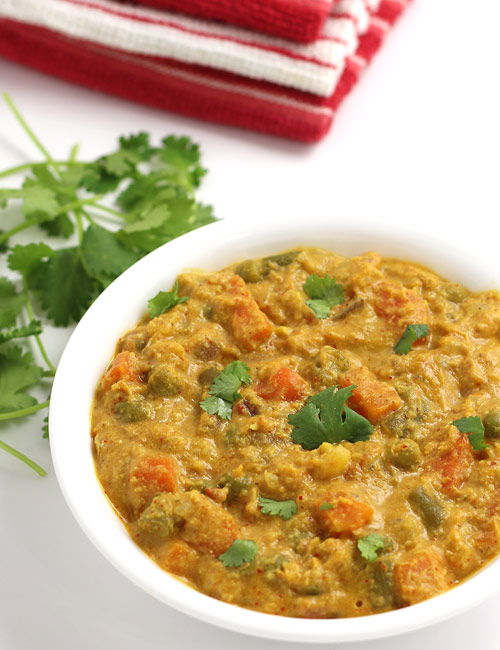 More Curry Recipes
Preparation Time:
 15 minutes
Ingredients for Paste:
2 teaspoons Poppy Seeds (khus khus)
1/4 cup Cashew nuts or Blanched Almonds
1/4 cup grated fresh Coconut (or desiccated)
1 Green Chilli, chopped
1 Green Cardamom
1 Clove
1-inch piece of Cinnamon
3-4 Black Peppercorns
Ingredients for Curry:
1/3 cup chopped French Beans
1/2 cup Green Peas (fresh or frozen)
1/2 cup diced Carrot
1/2 cup diced Cauliflower
1/2 cup peeled and diced Potato
1 small piece of Bay Leaf
1 teaspoon Ginger-Garlic Paste
1 large Onion, finely chopped (approx. 1/2 cup)
1 Tomato, finely chopped (approx. 1/3 cup)
1/2 cup beaten Curd (plain yogurt)
1/2 teaspoon Red Chili Powder
1 teaspoon Cumin-Coriander Powder
1/4 teaspoon Turmeric Powder
2 tablespoons Oil
Note:
If poppy seeds are not available, use 3 cashew nuts or 3 blanched almonds instead of it in this recipe.
Method for Paste:
Soak poppy seeds in 1-tablespoon hot water and cashew nuts in 1/4 cup hot water for 15-minutes.

Drain excess water from cashew nuts and add to the small chutney jar of a grinder. Add soaked poppy seeds along with water.

Grind them until medium coarse texture. If required, add 1-2 tablespoons water. Add coconut, green chilli, cardamom, clove, cinnamon and black peppercorns.

Grind to a smooth paste. If required, add 1-2 tablespoons water and grind again.
Method for Gravy:
Wash and cut all vegetables (French beans, green peas, carrot, potato, cauliflower) into small pieces.

Boil 1-2 cups water in a saucepan over medium flame. Add diced potato and salt and boil it for 5-minutes.  Add diced carrot, French beans, green peas and cauliflower and boil until all veggies are tender but little crunchy, it will take around 5-minutes. Turn off flame and drain excess water, keep boiled water for later use in the recipe.

Heat 2-tablespoons oil in a pan over medium flame. Add bay leaf and chopped onion. Sauté until onion turns translucent. Add ginger-garlic paste.

Sauté for 2-minutes. Add chopped tomato.

Cook until tomatoes turn soft. Add prepared paste.

Stir and cook for 2-minutes. Stir continuously to prevent sticking.

Add beaten curd, red chili powder, cumin-coriander powder and turmeric powder.

Mix well and cook for 5-6 minutes.

Add boiled veggies and 3/4 cup water (use water drained from boiled vegetables). Taste the gravy for the salt and add it if required.

Mix well and cook until gravy turns thick, it will take around 7-8 minutes. Stir in between occasionally to prevent sticking.

Turn off the flame and transfer Veg Kurma Curry to serving bowl.
Tips and Variations:
To make Veg Kurma Curry spicier, increase the quantity of green chili and red chili powder. Conversely, to reduce the spiciness of the curry, reduce the quantity of green chili and red chili powder
Make sure that yogurt or curd is not sour.
Add shallow fried paneer and capsicum along with boiled veggies in step-9 for variation.
Serving Ideas:
 Serve vegetable korma with or
layered lachha paratha
or butter naan or steamed rice in dinner or lunch.