Mung beans curry is a simple yet delicious curry which is usually served with chapati and rice in the lunch in every household in India. In this recipe, Moon beans are soaked and then cooked in the tomato and onion based spicy masala in the pressure cooker. You can either cook the raw moong beans without soaking or soak the beans and then cook them. Not only that you can adjust the gravy and spiciness or make this in a no onion no garlic way as per your. Follow the given below recipe with step by step photos to make this curry at home.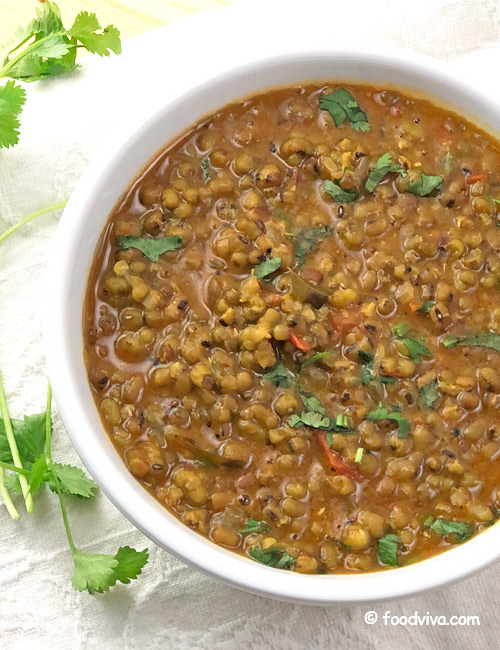 Preparation Time:
10 minutes + 4 hours soaking time
Ingredients:
1/2 cup Moong Beans (sabut mung dal/green gram), soaked in water for 4 hours or overnight
1 tablespoon Oil
1/4 teaspoon Mustard Seeds, optional
1 teaspoon Cumin Seeds
1 medium Onion, finely chopped (approx. ½ cup)
1/2 teaspoon grated Ginger
1 Green Chilli, chopped
4-5 Curry Leaves, optional
1 medium Tomato, finely chopped (approx. 1/3 cup)
1/2 teaspoon Red Chilli Powder
1 teaspoon Cumin-Coriander Powder
1/2 teaspoon Turmeric Powder
1½ cups Water
Salt, to taste
2 tablespoons Coriander Leaves, for garnishing
Note:
You can also make this curry without soaking the beans. If you don't want to soak the moong beans then you need to add more water (add extra 1/2 cup water, total 2 cups water) and cook them for 7-8 whistles over medium flame or until the beans are soft to touch.
Directions:
Rinse 1/2 cup moong beans (green gram/sabut mung) for 2-3 times and soak them in enough water for 4 hours or overnight.

Beans will absorb the water and hence they will increase in size after soaking. Drain the excess water from soaked beans and rinse them again.

Heat 1 tablespoon oil in a 3 or 5 litre capacity pressure cooker over medium flame. Add ¼ teaspoon mustard seeds; when they start to crackle, add 1 teaspoon cumin seeds. When they sizzle, add 1/2 cup finely chopped onion, 1/2 teaspoon grated ginger, 4-5 curry leaves and 1 chopped green chilli.

Sauté them until onion turns translucent.

Add 1/3 cup chopped tomato. Sauté until tomato turns soft or for 1-2 minutes.

Add 1/2 teaspoon red chilli powder, 1 teaspoon cumin-coriander powder and 1/4 teaspoon turmeric powder.

Mix well and sauté for 30 seconds.

Add soaked and drained moong beans.

Stir and cook for 1-2 minutes.

Add salt and 1½ cups water.

Mix well and close the lid. Cook for 3-4 whistles or until the beans turn soft. (if you have not soaked the beans then you need to add 2 cups water and cook for 7-8 whistles).

Turn off the flame. Let the pressure release naturally. Remove the lid and check the moong beans. They should be soft.

If you like thick gravy then cook the curry for a few more minutes or until you get the desired consistency. Curry will turn thick as it cools down so keep the little gravy.

Turn off the flame and transfer the curry in a serving bowl. Garnish it with chopped coriander leaves.
Tips and Variations:
Green Mung Beans – You can soak the beans for 4-6 hours or overnight or you can use without soaking them. If have enough time then soak the beans as they are easy to digest and takes less time in cooking.
Gravy Consistency – Adjust the amount of water to make less or more gravy as per your preference.
No Onion- You can make this curry without adding onion.
Add a little bit of lemon juice to get the tangy flavor in curry.
Serving Ideas:
  Serve moong beans curry with chapati or plain steamed rice, salad and papad in lunch.