It is a tempting and healthy shallow fried Indian bread stuffed with yummy paneer based lightly spiced mixture. The secret of delicious paneer stuffed paratha prepared by this recipe lies in its perfectly balanced mixture of grated paneer, fresh coriander and mint leaves, chilli and spices which gives just right amount of not too spicy, flavorful taste. Butter laced paneer paratha and thick curd is just heaven.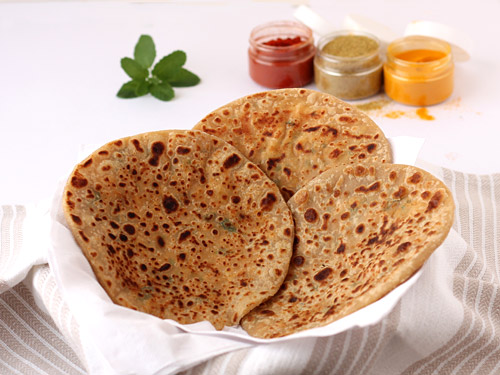 More Paneer Recipes
Preparation Time:
10 minutes
Serves:
3 servings (6 pieces)
For Dough:
1½ cups + 1/2 cup Wheat Flour
3 teaspoons Oil + for shallow frying
Salt
For Stuffing:
3/4 cup grated or crumbled Paneer (cottage cheese)
1/2 cup boiled and grated Potato
2 Green Chillies, finely chopped
1 teaspoon grated Ginger
2 tablespoons finely chopped Coriander Leaves
1 tablespoon chopped Mint Leaves, optional
1 teaspoon Coriander-Cumin Powder
1/2 teaspoon Red Chilli Powder
1/4 teaspoon Garam Masala Powder
1 teaspoon Lemon Juice or Dry Mango Powder
Salt
Directions for Preparing Dough:
Combine 1½ cups wheat flour, 2 teaspoons oil and salt in a large bowl. Add enough water (incrementally in small quantities) and knead smooth and soft dough (like roti dough). Grease surface of the dough with 1-teaspoon oil. Cover it and set it aside for 15-20 minutes to settle at room temperature.
Directions for Preparing Stuffing:
Combine grated paneer and grated potato in a medium bowl. Make sure that there are no potato lumps, as they will tear the dough while rolling. Add chopped green chillies, grated ginger, chopped coriander leaves, coriander-cumin powder, red chilli powder, garam masala powder, chopped mint leaves, lemon juice and salt.

Mix all ingredients properly. Filling (stuffing) is ready.
Directions for Making Paneer Paratha:
Divide the dough into 6 equal parts and give them a round shape like ball. Take one dough ball, press it between your palms or on rolling board to make a flat pattie. Take 1/2 cup dry wheat flour in a deep plate. Coat each pattie with dry flour.

Place dough pattie on rolling board/roti making board (chakla) and roll it out using a rolling pin into a thick circle of approx. 4-5 inch diameter. Put approx. 2 tablespoons stuffing in the center, wrap it with sides of rolled circle, seal the edges and again give it a round shape like ball.

Press stuffed ball on rolling board and coat it with dry flour.

Roll it out gently into 1/4 inch thick circular paratha of 6-7 inch diameter (like roti or chapati).

Heat a tava/griddle over medium flame. When tava is medium hot, place rolled paratha over it.

When tiny bubbles start to rise on the surface, flip it upside down and reduce flame to low. Spread 1/2 teaspoon oil over the surface with the help of a spatula or a spoon and cook for approx. 30 seconds.

Flip again and spread 1/2 teaspoon oil over  another side. Gently press the paratha with spatula and cook for 30-40 seconds over medium flame. Repeat flip and cook process until golden brown spots appear on both sides.

Transfer it to a plate and spread some butter over it. Follow the same process for remaining dough balls. Serve Paner Partaha with pickle and onion raita.
Tips and Variations:
Dusting dry flour on dough pattie and stuffed ball will prevent it from sticking to rolling board. Dust it as much as required.
Tofu can be used as a substitute of paneer in this recipe.
To make the soft outer layer of paratha, make sure that dough is not hard.
Roll the paratha gently to prevent it from tearing.
Taste:
Soft and mild spicy with nice flavor of coriander and mint.
Serving Ideas:
It is a healthy and stomach filling Indian flatbread that can be served with tomato chutney and aloo curry in the lunch or dinner. Serve it with tea and pickle or cucumber raita in the breakfast. Food prepared with paneer is generally popular among children, pack protein rich paneer ka paratha in the kid's lunch box.