Plain Paratha (Parantha) is yummy triangle shaped Indian flat-bread made of whole-wheat flour. There are various types of parathas that one can prepare e.g with filling of aloo, gobi, paneer, etc. However, it's the basic plain parantha that rules the roost. If you are a novice cook, then detailed directions and exact measurements of ingredients given in this recipe will help you make it like a pro and if you are a cooking expert, then you will be amazed at how addition of cumin seeds simply transforms the taste of it.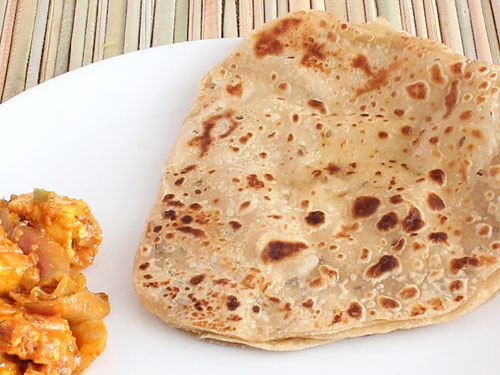 Plain Paratha (Simple Jeera Paratha) Video
More Roti Paratha Recipes
Preparation Time:
15 minutes
Serves:
2 servings (6 parathas)
Ingredients:
1¼ cup Wheat Flour (for dough) + 1/2 cup (for rolling)
1 teaspoon Cumin Seeds
2 teaspoons Oil + for shallow frying
1/2 cup Water (or as needed)
Salt to taste
Butter, for serving
Directions:
Mix 1¼ cup wheat flour, cumin seeds, 1 teaspoon oil and salt in a medium size bowl to prepare a dough.

Add water in small incremental quantity (1 or 2 tablespoons at a time, total approx. 1/2 cup but change it as required) and knead the smooth and soft dough like chapati dough. Grease its surface with 1 teaspoon oil and cover it. Keep it aside for 10 minutes to let it settle at room temperature.

Divide it into 6 equal parts and give each part a round shape (like small ball). Take one dough ball, flatten it like pattie by pressing it between your palms or against roti making board. Take 1/2 cup dry wheat flour in a plate. Coat the pattie with dry wheat flour (dry flour coating will prevent it from sticking to rolling pin and board).

Put dough pattie on roti making board (chakla) and roll it out like very thick small roti using rolling pin (circle of approx. 4-5 inch diameter).

Spread few drops of oil and dust flour on top surface and fold it into half-circle. Again, spread few drops of oil and dust flour on it and again fold into a triangle shaped layered pattie.

Coat it with dry flour and roll it out into triangle paratha having approx 6 inch long sides. Also, it should be thicker than phulka roti but thinner than tandoori roti/naan.

Place it on a hot tava/griddle and cook over medium flame. When tiny bubbles start to rise on the surface, flip it and reduce flame to low.

Spread 1/2 teaspoon oil evenly on the surface and cook on low flame for approx 30-40 seconds.

Flip it again and spread 1/2 teaspoon oil evenly on another side. Press it with spatula and cook over medium flame for 30-40 seconds. Repeat flip-press-cook process until golden brown spots appear on both sides. (do not spread oil in subsequent flip-press-cook process. Based on the size of gas burner you have, it may be required to flip 1 to 3 times to cook properly. You should look out for evenly spread golden brown spots on both sides to determine if it's cooked or not.)

Take it away from heat and transfer to a plate. Spread butter as per your liking. Follow the same process for remaining dough balls. Serve it with curd and pickle or with

paneer do pyaza

.
Tips and Variations:
If you are learning and making it for the first time, then we suggest to make circular shaped parathas rather than triangular shaped because rolling our former one is bit easier than later one. The dough making and cooking process remain same.
Use only maida (all purpose flour) or equal amount of maida and wheat flour for variation.
To make softer Indian paranthas, either use milk instead of water or add 1-tablespoon curd while preparing dough.
Serving Ideas:
Shallow fried Punjabi paratha is a classic Indian flat-bread that can be served with almost all Indian curries. However the most popular combinations are with
shahi paneer
or dal fry and green chutney. Serve it with pickle and tea for breakfast.