Sev tameta nu shaak is a popular Gujarati style sweet and sour tomato curry prepared with tomato, sev, onion and other Indian curry spices. In this recipe, first tomatoes, onion and spices are sauteed in oil and then cooked with water, sev is added only toward its final stage of preparation. Serve it with paratha and thepla for a delicious meal.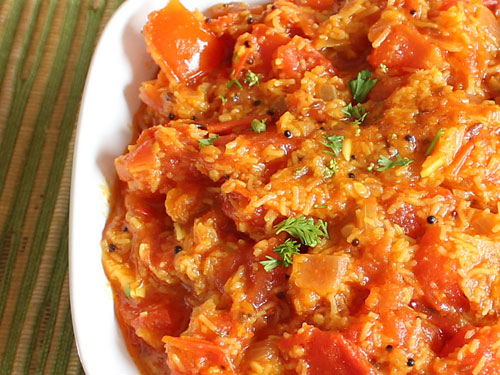 More Gujarati Recipes
Preparation Time:
5 minutes
Ingredients:
5 medium Red Ripe Tomatoes, chopped
1/2 cup Nylon Sev or Thick Sev
1/2 teaspoon Cumin Seeds
1/4 teaspoon Mustard Seeds
1 medium Onion, finely chopped, optional
1 teaspoon Ginger-Garlic Paste
1 Green Chilli, finely chopped
2 teaspoons Sugar
1/2 teaspoon Red Chilli Powder
1/4 teaspoon Turmeric Powder
1 teaspoon Coriander Powder (dhania powder)
1/4 teaspoon Garam Masala Powder
2 tablespoons Coriander Leaves, finely chopped
2 tablespoons Cooking Oil
Salt to taste
1/2 cup Water
Directions:
Heat oil in a kadai over medium flame. Add mustard seeds and cumin seeds; when they begin to splutter, add chopped onion and sauté until it turns light brown. Add ginger-garlic paste and chopped green chillies, sauté for 15-20 seconds.

Add chopped tomatoes and sauté them for a minute.

Add and mix salt, sugar and turmeric powder. Cook on medium flame for 2-3 minutes.

Add 1/2 cup water, mix well and cook until tomatoes become soft (around 4-5 minutes). Stir in between occasionally.

Add red chilli powder, garam masala powder, coriander powder and sev.

Mix well and cook for 1-2 minutes. Turn off the flame.

Transfer prepared sev tameta nu shaak to a serving bowl and garnish with green coriander leaves. Serve it hot with chappati, thepla or paratha.
Tips and Variations:
If you want more gravy, add more water because sev absorbs the water of gravy.
Adjust quantity of red chilli powder, and green chilli according to your taste to make it more or less spicy.
Serving Ideas:
Serve it with plain paratha or bhakhri (a thick roasted Gujarati bread).