Kheer takes up significant share in Indian sweets and desserts preparations due to its health benefits, easy preparation and irresistible taste. One such healthy kheer is carrot kheer or carrot payasam as commonly referred in South India. This recipe requires the use of fresh and healthy carrots, which are rich on B carotene, dietary fibers and antioxidants. The use of ghee and cardamom powder adds a subtle taste and flavor while the use of condensed milk reduces the cooking time and adds a creamy texture.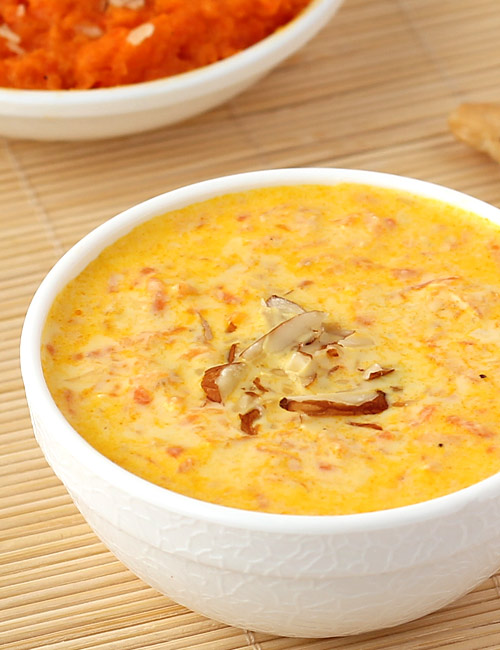 Preparation Time:
10 minutes
Ingredients:
2 medium Carrots or (1 cup grated Carrots)
2 tablespoons Ghee
1½ cups Milk
2 tablespoons Condensed Milk
5-6 Cashew Nuts, broken into two-three pieces
8-10 Raisins, optional
1 tablespoon Sugar
1/4 teaspoon Cardamom Powder (Elaichi)
Directions:
Peel and grate carrots or coarsely grind them in a food processor.

Heat 2 tablespoons ghee in a non-stick or heavy bottomed pan over medium flame. Shallow fry cashew nuts and raisins separately, transfer them to a plate.

In the same pan, add grated carrot and sauté over low flame for 4-5 minutes while stirring continuously.

Add milk, mix well and bring it to a boil over medium flame.

When it starts boiling, add condensed milk and mix well. Cook on low flame for approx 5 minutes, stir in between frequently.

Add sugar according to taste. Please note that condensed milk is already sweet; hence add sugar only to get little higher sweetness. Cook until it starts to thicken or for around 5 minutes, stir continuously to avoid burning of carrot and milk.

Add cardamom powder, mix well and turn off the flame. Allow it to cool at room temperature.

Transfer it to serving bowls and garnish with cashew nuts and raisins. Serve carrot kheer warm or chilled according to your choice.
Tips and Variations:
The carrot payasam prepared by this recipe has semi thick consistency. If you like very thick consistency, then cook until mixture is thick and almost all liquid is absorbed in step-6.
Use carrots that are sweet in taste.
If you like less sweet and healthy dish, then you can reduce sugar to 1/2 tablespoon in step-6.
Add 2 tablespoons khoya (mawa) to give it a creamy texture in step-5.
Serving Ideas:
Serve it as a dessert or as a sweet accompaniment for lunch or dinner. It is also a healthy snack for kids.