Beetroot Halwa – a delicious dessert prepared from nutrition rich beetroot, has a rich and creamy texture and tastes similar to
Carrot Halwa (Gajar Halwa)
. Preparing this delicious dessert at home in traditional way is very simple and requires just three ingredients – beetroot, milk and sugar. However, this Beetroot Halwa Recipe doesn't stop there; it makes it even tastier and aromatic by adding cardamom, ghee and roasted cashews and easier to prepare by providing photos of each and every step.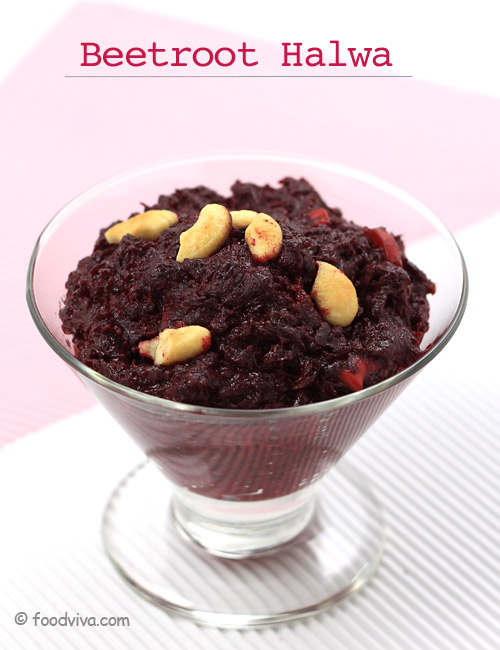 More Desserts Sweets Recipes
Preparation Time:
15 minutes
Ingredients:
2 cups grated Beetroot (2 large beetroot)
1 cup Full Fat Milk (add 1½ cups to make extra creamy halwa)
3 tablespoons Sugar (more or less to taste)
1/8 teaspoon Cardamom Powder
2 tablespoons chopped Cashew Nuts, optional
2 tablespoons Ghee
Directions:
Wash the beetroots in running water. Peel them and cut from the bottom.

Grate them using a grater (use side with larger holes to grate the beetroot to make thicker strands).

Heat 1/2 tablespoon ghee in a heavy based kadai (thick bottom pan) or pressure cooker. Add chopped cashew nuts and sauté until they turn light brown.

Transfer them to a plate.

Add grated beetroot in the same kadai or cooker.

Sauté for 7-8 minutes over medium flame.

Add milk.

Mix well. Let it cook over medium flame until it turns thick. Stir in between occasionally.

When mixture starts to thicken, stir continuously to prevent sticking.

When the mixture turns thick, add sugar. As the sugar melts, the mixture will turn watery. Stir and cook until it turns thick.

Add remaining ghee, cardamom powder and roasted cashew nuts.

Mix well. Stir and cook for 2-minutes. Turn off the flame. Beetroot halwa is now ready. Serve it warm or chilled per your preference.
Tips and Variations:
Adjust the amount of sugar as desired to make it as sweet as you would like it to have. The amount of sugar required would also depend on the sweetness of beet.
This recipe used Ghee to give it an aromatic and traditional flavor. You can choose to avoid this ingredient or reduce its quantity to reduce the calorie count of this dessert.
You can store this halwa at room temperature for a day and in refrigerator for 2-3 days.
For variation, make beet gulab jamuns from the mixture – cook the halwa until it turns very thick and then let it cool to room temperature. Make small lemon sized balls from cooled mixture and coat with dry grated coconut.
Serving Ideas:
Serve it hot/warm with vanilla ice cream as a dessert after dinner. It can also be served as a sweet with main meal in lunch or dinner.