You don't need to wait for an occasion to savor the sweet and creamy dudhi halwa (lauki ka halwa) as it can be prepared at home in just few minutes and does not require any expert cooking skills. This recipe takes its taste and texture to next level as use of condensed milk and generous amount of dry fruits provide nice creamy texture while ghee and cardamom provides irresistible aroma. If you don't have sweetened condensed milk, then don't worry, read tips and variations given below to make equally tempting dudhi ka halwa with khoya (mawa).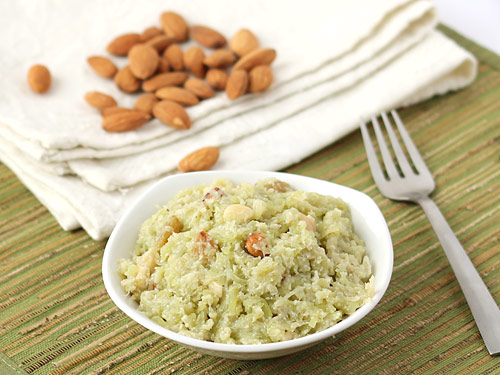 More Desserts Sweets Recipes
Preparation Time:
10 minutes
Ingredients:
2½ cups grated Dudhi (bottle gourd/lauki)
1 cup (250 ml) Full Fat Milk
3 tablespoons Condensed Milk
2 tablespoons Ghee (clarified butter)
3 tablespoons Sugar
10 Cashew Nuts, chopped
10 Almonds, chopped
15 Raisins
1/4 teaspoon Cardamom Powder
Directions:
To grate the dudhi, first peel it and then wash it in running water. After that, grate it from all sides and discard center part having seeds. Squeeze out water from grated dudhi completely.

Heat ghee in a pan over medium flame. Add grated dudhi.

Sauté it for 3-4 minutes, stirring continuously.

Add milk and condensed milk; mix well and bring mixture to a boil.

When it starts boiling, reduce flame to low and cook it until almost milk is absorbed. It will take approx. 10-15 minutes. Stir occasionally in between to prevent sticking. Add sugar, chopped cashew nuts, raisins and chopped almonds.

Stir continuously and cook until almost moisture is evaporated and mixture turns thick; approx. 3-4 minutes.

Turn off the flame, add cardamom powder and mix it properly.

Delicious doodhi halwa is ready. Transfer it to serving bowl and serve.
Tips and Variations:
Dudhi has a little bit bitter taste. Squeeze out water completely from grated dudhi to reduce its bitterness.
Replace sweetened condensed milk with 4 tablespoons khoya(mawa) and increase amount of sugar to 5 tablespoons for variation in taste and ease of preparation.
Taste:
Sweet and creamy with nice small chunks of cream.
Serving Ideas:
Sweet and savory dudhi ka halwa is a household sweet in India. It can be served as a dessert or as a sweet accompaniment to main dish. Serve it along with some namkeen to entertain the guests.