Apple Halwa is a delicious Indian style apple pudding that is made with grated/chopped apples, sugar, ghee and cardamom powder. There is no need of any special ingredients like mawa or condensed milk to make this halwa. The making process is also super easy and doesn't require much time. Follow the below given recipe with step by step photos and video and don't forget to read the tips before making this halwa.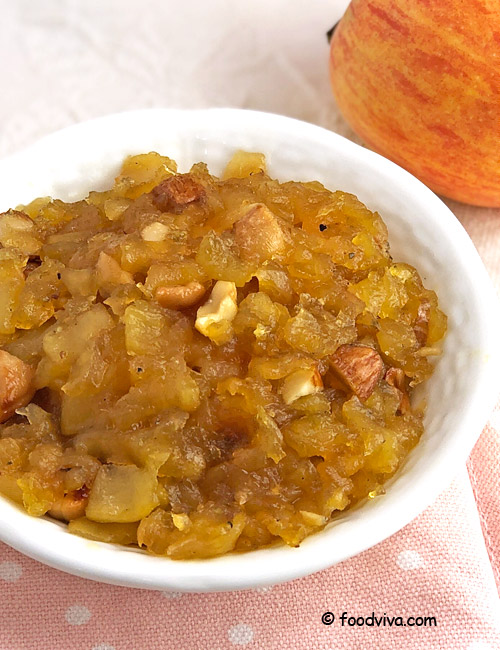 More Desserts Sweets Recipes
Preparation Time:
10 minutes
Ingredients:
3 medium or 2 large Apples (approx. 500 gm, 2½ – 3 cups chopped or grated)
5-6 Cashew nuts, chopped
5-6 Almonds, chopped
1/4 cup Sugar (or to taste)
2 tablespoons Ghee
1/4 teaspoon Cardamom Powder or Cinnamon Powder
Directions:
Choose the sweet apples to make this halwa. Rinse the apples. Peel them.

Cut them into small pieces using a knife (or in a chopper/food processor) or grate them using a grater. Don't cut/grate the apples in advance as they will turn brown.

Heat 2 tablespoons ghee in a heavy based kadai or a pan over medium flame. Add chopped almonds and cashewnuts.

Shallow fry them until they turn golden. Transfer them in a bowl.

Add chopped/grated apples to the same kadai/pan. Stir and cook for a few seconds.

Then cook it covered until soft, for approx. 5-6 minutes.

Stir in between occasionally to prevent sticking.

If you are using chopped apples them mash them gently with the backside of a spatula. Cook until almost water is evaporated.

Add 1/4 cup sugar (more or less, to taste). The amount of sugar depends on the sweetness of apples.

Mix well. As the sugar dissolves, the mixture will turn gooey. Cook until almost water is evaporated.

Add 1/4 teaspoon cardamom powder and mix well.

Turn off the flame. Add dry fruits and mix well. Apple halwa is ready for serving.
Tips and Variations:
Choose sweet variety of apples to make this halwa.
Adjust amount of sugar according to the sweetness of apples and as per your taste.
Taste:
 Mild Tangy and Sweet
Serving Ideas:
  Serve apple halwa to kids during afternoon snack time as a healthy dessert.